What are the most popular Adventure Games?
What are the new Adventure Games?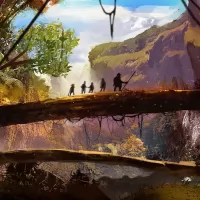 Play Free Adventure Games Online
If you play video games for the purpose of experiencing unique stories set in different realities you are probably a fan of adventure games. These types of titles can be both story-driven or completely unscripted and random but they usually let you control a certain protagonist on some kind of quest.
When it comes to writing your own stories, survival simulators can provide a ton of interesting content and events that happen out of a previously decided order. Playing these types of adventure games online like Surviv.io, Moomoo.io and Zombs.io gives you a pretty good idea of what would happened if you ever got stranded on an island or had to stay alive in the wild. Minecraft Classic shows all that and more from the first-person point of view. Evowars.io and Mope.io are more combat oriented but also feature a role playing element: you get to develop your character's stats and gradually become more and more powerful.
Some adventure games play more like an actual story. In Fireboy and Watergirl series you help the two protagonists solve various puzzles and uncover the mysteries of ancient temples. Bob The Robber is a saga about the world's greatest thief who later forgets his criminal past and starts using his skills for epionage and tomb-raiding.
Being immersed into another world, exploring it and feeling for your character are the traits that make adventure games fun. You never know exactly what to expect and get effected by various events as if they were happenning to you. It's really not that different from reading a fictional story or watching a movie – as long as the writing is good and you like the theme, you will brobably enjoy it.
The Kevin Games portal features dozens of great adventure games free for everyone to enjoy. Whenever you feel like escaping your own uneventful reality for some excitement and exploration check out our archive and see which titles you like the best!
---
We carefully selected 333 of the greatest Adventure Games and made them available for you online for free.
This archive consists of browser games for desktops and mobile platforms as well as titles specifically designed for tablets and phones. Here you will find some truly amazing gems like Ninja Rabbit, Battle for the Galaxy, The Last Man, Warrior Orc, Among Rampage, and tons of other awesome free games.
---