What are the most popular Christmas Games?
What are the new Christmas Games?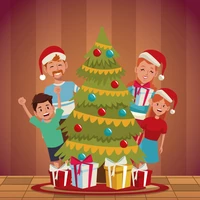 Play Free Christmas Games Online
It is hard to imagine a time more magical than Christmas time! Greetings, gifts and wrappings, family reunions - all of this brings so much joy. Luckily you can find yourself there any time of the year. How? Just play christmas games. They are made of everything that's so good about holidays.
On Santa's Good List
This category is one of the most cheerful, to be honest. No wonder, as it's all about wonders! You won't be asked if you behave well or not. Everyone deserves to have some fun on Kevin Games. Explore the best titles we've collected. Especially since this theme is not always sweet and cute. If you're tired of the classic mood, try something new. How about, for example, Monster Christmas Terror? Sounds like a perfect nightmare.
Coolest Christmas Games Online
From 2D puzzles to lifelike adventures, these games are so exciting. Would you rather have a traditional celebration? You'll definitely love some dress-ups and cooking simulators. Are you a true rebel instead? Then a dynamic shooter like Winter Clash 3D is more likely your choice. For snake fans there is a neony Santa Snake. In brief, there are options for every taste!
Enjoy Christmas Games Free
Real merrymaking requires serious money spending. But here the rules are not the same. Just imagine: you won't have to spend a single cent this time! You get all the cool emotions without even downloading anything. Use any device: PC, phone, tablet, chromebook. Invite your mates and family to share experience in multiplayer. Celebrate like no one did before. And watch the mistletoe!
---
We carefully selected 29 of the greatest Christmas Games and made them available for you online for free.
This archive consists of browser games for desktops and mobile platforms as well as titles specifically designed for tablets and phones. Here you will find some truly amazing gems like Santa run challenge, Hands Attack, Cristmas santa slide, Silly Ways to Die Christmas Party, Xmas 2020 Sudoku, and tons of other awesome free games.
---
Also people ask about Christmas Games