What are the most popular Flying Games?
What are the new Flying Games?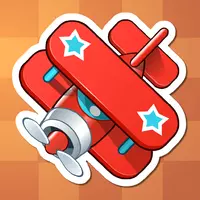 Play Free Flying Games Online
You can be afraid of height in real life. At the same time, you are sure to like to play flying games. Well, nothing illogical! They are gripping and let you feel safe even if you are high up. Besides, it is a virtual reality, so it is not that scary. Right? Find out by controlling different characters. Become a bird and explore your island. Be a superhuman and fly past skyscrapers. Or maybe you are into business and want to own an airport? Get ready for anything.
Formula of a Good Adventure
The selection offers a variety of browser toys. They have one thing in common. It is their connection to the air. Just think how much room for maneuver it gives. As a result, you will find lots of different titles on this page. Want to flap wings yourself? No problem. Want to surf the wind being a human? Welcome! Want to throw paper planes into the air? As we say, you will find anything here.
Some titles require only your mouse to control the process. Some are more complicated and offer a set of buttons for various purposes. For example, to land, walk on the ground, attack, or jump. However, they are easy to remember. Both new players and experienced ones will find them intuitive.
Why are Flying Games Online Loved?
Well, first of all, the quality attracts users' attention. Developers made sure that every detail was well-drawn and thought-out. And thanks to this, players get new worlds with challenging tasks. Secondly, they are one more chance to train one's skills. Be it reaction, land navigation, or logical thinking. You hone your abilities and learn something new. And the last thing, flying is not what you meet every day. So, people like such toys and have a lot of fun.
Are Flying Games Free?
You might think that such quality must be very expensive. It is logical, as we are all used to paying for good things. Only not in this case! We welcome you to enjoy any title free of charge. It is not a temporary offer. Kevin Games is known for providing great adventures and requires no payment. If you don't believe us, visit our website and check yourself. By the way, our platform is well-protected. You won't find any malware here. So, relax, enjoy the best entertainment and come for more.
---
We carefully selected 20 of the greatest Flying Games and made them available for you online for free.
This archive consists of browser games for desktops and mobile platforms as well as titles specifically designed for tablets and phones. Here you will find some truly amazing gems like Paper Flight, Flying police car simulator, Dragon Flight Race, Evoworld.io, Parrot simulator, and tons of other awesome free games.
---
Also people ask about Flying Games