What are the most popular Creator Games?
What are the new Creator Games?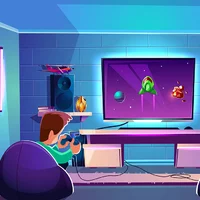 Play Free Creator Games Online
Conventional computer entertainment offers predetermined experiences designed to amuse the audience. However, some players prefer to stay off the beaten track and make their own choices. They like being able to interact with virtual environments on a deeper level. Fortunately, there are plenty of creator games online that allow people to express themselves. Their concepts, goals, and ideas vary pretty significantly. But they all provide the necessary freedom and tools to realize a personal vision. What kinds of options do potential fans have to choose from? Let's take a closer look and explore the niche further.
Imagination Unleashed
Artistically inclined individuals never fail to find interesting ways of shaping the world around them. But when it comes to digital simulations, the available selection boils down to the following variations:
Brainteasers that involve problem-solving by making custom shapes
Multiplayer puzzles where participants have to draw certain objects for others to guess
Word-based competitions that reward witty one-liners and jokes
Open-ended sandboxes featuring survival, crafting, and building mechanics
Complex projects that provide comprehensive instruments for making original maps, gameplay rulesets, and minigames
Those undecided shouldn't be afraid to experiment and try different things. Identifying the most enjoyable subgenres to suit individual tastes is worth the trouble.
How to Play Creator Games Without Installation
While popular franchises tend to be quite pricey, this category is far more accessible. In fact, the titles it offers often don't cost anything at all. Developers monetize their work by showing ads or implementing in-app purchases. Consequently, users can have fun without limitations for hours on end. Moreover, websites like Kevin Games host hundreds of amazing products in one place. There is no need to download any files to a local machine. Simply launch the web-based builds using Mozilla Firefox or Google Chrome.
Having the power to affect the surroundings and demonstrate ingenuity to overcome obstacles feels wonderful. Today, there are more opportunities to do so than ever before. Check out dozens of awesome creator games for free and have a blast.
---
We carefully selected 8 of the greatest Creator Games and made them available for you online for free.
This archive consists of browser games for desktops and mobile platforms as well as titles specifically designed for tablets and phones. Here you will find some truly amazing gems like Custom gun creator, Сrystal Gem Amethyst Dress Up, Tomboy creator, Creator master, Star vs evil avatar maker, and tons of other awesome free games.
---