What are the most popular Hunting games?
What are the new Hunting games?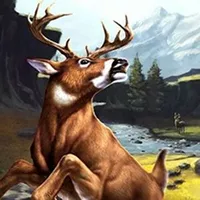 Play Free Hunting games Online
Millions of years of evolution have made humans exceptionally good at many tasks. Being able to find shelter, and sources of food is essential for survival. Unsurprisingly, killing wild animals used to be a requirement before farming was invented. Today, people rarely feel that taking life for sport is justified. Most prefer to play hunting games instead. They appeal to the basic brain functions that have developed throughout humanity's existence. The thrill of the chase, the sensation of successfully catching the prey are unforgettable. However, it's much safer to experience them while sitting in a comfortable chair. Track realistic-looking and fantasy-inspired beasts, shoot them and get the trophies. Build an arsenal of ranged and melee weapons. Master the deadly techniques and become the best hunter in the world.
In Pursuit of Entertainment
Some genres encompass more types of fun activities than others. This particular category is one of the most diverse on Kevin Games. The gameplay doesn't necessarily rely on shooting and killing. Something as simple as hide-and-seek can be turned into a virtual adventure. Not to mention the titles that simulate secret operations involving snipers and assassins. Here are just a few examples of possible mechanics that players can explore:
Stealth with a heavy focus on sneaking and melee
Placing traps and waiting for the prey to get caught
Aiming through a scope and pulling the trigger while minding the wind's direction
Locating someone hiding amongst everyday objects
Using tracking techniques to discover the target's location
There's no shortage of amazing options suitable for any audience. Even the youngest gamers can have fun without getting exposed to graphic scenes. Browse through the collection and find the perfect match.
How to Access Hunting Games Online
The days of heavy downloads and lengthy installations are over. Amazing 3D environments and virtual worlds await on dedicated servers. This site is a universal portal connecting the players to what they seek. Find an intriguing description and press Start. Run even the most visually advanced shooters in a browser window. Use a regular mouse and keyboard, just like in any modern title.
Throughout history, humankind has acquired many admirable traits. Toughness and ruthlessness are counterbalanced by compassion and mercy. There is no need for cruelty when the resources are plentiful. The simulated nature of the mechanics makes hunting games free of any ethical issues. Master the art of virtual killing and enjoy the process without a second thought.
---
We carefully selected 9 of the greatest Hunting games and made them available for you online for free.
This archive consists of browser games for desktops and mobile platforms as well as titles specifically designed for tablets and phones. Here you will find some truly amazing gems like Lion King Simulator Wildlife Animal Hunting, Pixel Hunting.io, Lion Hunting 3D, Hunter Assassin, Slime Hunter, and tons of other awesome free games.
---
Also people ask about Hunting games