What are the most popular Cowboy Games?
What are the new Cowboy Games?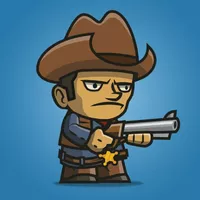 Play Free Cowboy Games Online
Created for fans of the Wild West, the cowboy games online category rocks in everything. Gameplay, plots, settings… All kinds of genres come together to show you how different developers implement the idea. Get primed for taking part in the strangest stories. From dueling with macho men to destroying the undead with a revolver.
Crazy Matches
Whenever you speak of the West in the past, you always imagine those cool confrontations. Any quarrel would be resolved in this way, even the most hilarious ones. In Cowboy Brawl, 2 men initiate a life or death struggle. It sounds serious. Until you see them on the roof of the moving train, balancing in their saddles. Moving as if they were drunk, they push each other off the roof. Water pistols serve as their deadly weapons that can bring victory if used wisely. 5 rounds. A clever AI. The opportunity to play with a friend. It's definitely fun.
Play Cowboy Games to Participate in Cold-Blooded Duels
Focus, wait for a signal, and be the first to fire. These are the basic skills needed to win in Gunslinger Duel. Designed in Minecraft style, it offers a challenging difficulty system. And AI-driven opponents that get faster with each new round. Don't hurry to act. Otherwise, you'll miss, lose and start from the 1st level. How fast can you react? Find out by trying!
Fast-Paced and Dangerous
There are other types of titles, with completely different gameplay. Focus on timely shooting and jumping in Cowboy Catch Up. Chase a criminal through the streets of the western settlement. Avoid fantasy beasts, such as skeletons, zombies, etc. Enjoy funny non-violent blood scenes and an engaging power-ups system. Cowboy vs Zombie Attack is similar in the context of enemies. Fighting the undead, you meet all kinds of filthy monsters. Huge, small, flying, with bombs, knives, barehanded… Kill them all, collect ammunition and move a lot to survive!
What Makes Them So Cool?
Dive into this rich content without paying for anything. Try cowboy games free of charge. Don't register or download anything, as everything is browser-based. Come to Kevin Games. It has a lot to offer to fans of the gaming industry.
---
We carefully selected 7 of the greatest Cowboy Games and made them available for you online for free.
This archive consists of browser games for desktops and mobile platforms as well as titles specifically designed for tablets and phones. Here you will find some truly amazing gems like Cowboy Adventures, Gunslinger Duel, Cowboy Brawl, Zombie Attack, Catch Up, and tons of other awesome free games.
---