What are the most popular Slime Games?
What are the new Slime Games?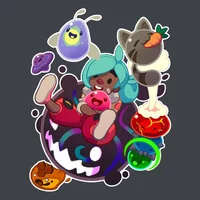 Play Free Slime Games Online
Do you know what slime games online are about? Of course, you do. They are everywhere. From their first appearance, the world's got obsessed. Don't even bother to resist this power. Just give up and surrender to the fun!
It could be you've never heard of such a thing. In this case, welcome back to civilization! You're going to love them. Why wait? Join the army of slimers now. Explore the world of jelly-like creatures starting from this page.
Why does everyone want to play slime games?
These bouncing guys have lots of fans. No wonder, as they are pretty awesome. Here are some reasons why:
They can be anything.
All shapes and colors are possible. Plus, as animated characters, they can be so different. Meet them all at Kevin Games. Find out how deep could be a chewy soul.
They can do anything.
A good goo has many skills to present. It can run, jump, fight or collaborate with fellows. And he doesn't mind if you teach him other useful things.
They cost nothing.
Getting an offline version is quite a job. People take certain ingredients and mix them together. It consumes time and effort. Or you can just buy one. As for digital toy stories, they are free. While the experience is real and priceless. Looks like the choice is obvious.
Enjoy slime games free on our website
Again: content from this set is free. No installation is required for deep-diving into high spirits. Use a device that suits you better. The browser party is for everyone. Both PC and mobile device users are invited. Safety first: no viruses or hidden payments are on your way. Share such a lovely experience with friends and family. The coolest adventure starts now!
---
We carefully selected 7 of the greatest Slime Games and made them available for you online for free.
This archive consists of browser games for desktops and mobile platforms as well as titles specifically designed for tablets and phones. Here you will find some truly amazing gems like Pixel Slime, Slimoban 2, Slimoban, Slime Hunter, Ninja vs Slime, and tons of other awesome free games.
---