What are the most popular Ninja Games?
What are the new Ninja Games?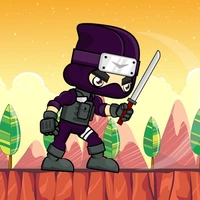 Play Free Ninja Games Online
Action-driven fiction is full of great concepts but nothing is cooler than martial arts. Traditional, typically Eastern techniques of hand-to-hand combat have been developing for centuries. Generations of masters passed their knowledge and skills on to their students. Finally, they became known in the West and captivated the minds of international audiences. Becoming a battle-tested black belt requires years of dedication but there is an alternative. Ninja games free the imagination allowing anyone to become an expert assassin. Defeat dozens of enemies without resorting to firearms. Assemble a collection of deadly weapons and tools of annihilation. Throw shurikens, slice through opponents with katanas, and beat them with nunchucks. Follow the path of wisdom and strike fear into the hearts of villains.
Means of Warfare
Adventures featuring these inspiring protagonists are easy to find on Kevin Games. They exist in many shapes and forms and encompass a variety of playstyles. Usually, they fall into one of the following genres:
2D side-scrollers and Metroidvanias that focus on platforming, fighting, and exploration
Third-person slashers and realistic simulators
Miscellaneous casual titles, including puzzles, quests, and endless runners
Each category features a huge number of options. Trying them all will take days or even weeks. Look through the available entries and find something suitable. If it doesn't feel engaging enough, just switch to the next one.
How to Access Ninja Games Online
Recent advancements in both hardware and software create new sources of entertainment. Virtual experiences no longer require downloading files and installing them on a particular device. Almost any browser is capable of running rather complex simulations without hiccups. Desktops, laptops, and smartphones render captivating 3D environments in real-time. Many of them don't even cost anything because of alternative ways of monetization. This site is a perfect place to discover the best titles available on the web. Browse it in search of awesome single and multiplayer activities without ever getting bored.
Not everyone is cut out to be a hero with extraordinary abilities. Play ninja games to feel like one while sitting at home in a comfy chair. Execute mind-blowing combos with a press of a button. Become one with the shadows and strike when the target least expects it. Defeat the fools who dare stand in the way and come out unscathed.
---
We carefully selected 9 of the greatest Ninja Games and made them available for you online for free.
This archive consists of browser games for desktops and mobile platforms as well as titles specifically designed for tablets and phones. Here you will find some truly amazing gems like Norobu.io, Ninja Warrior Shadow of Last Samurai, Pop Ball, Ninja Rabbit, Cyberpunk Ninja Runner, and tons of other awesome free games.
---
Also people ask about Ninja Games