What are the most popular RPG Games?
What are the new RPG Games?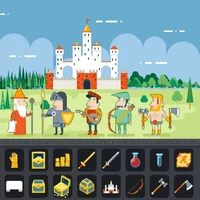 Play Free RPG Games Online
Everyday millions of people take part in rpg games online and offline. It is a great way to spend time with friends (or make new). Video games give you a wide set of options. One of which is to share experience with gamers from all over the world.
Common Rules
A roleplaying game means players represent some characters in a made-up setting. There is a system of rules and guidelines involved. According to it, players choose the next action. What also matters is the character's range of skills. They can develop through the gameplay. Responding to changes you'll grow as a warrior. Become stronger and smarter here, on Kevin Games.
The multiplayer often requires a game-master. He (or she) also assumes the role of referee. The online adaptations may share the rules of a tabletop original. But they are way better. Especially when it comes to character evolution. Not to mention advanced mechanics and cool graphics. Plus you can control a whole group of fictional persons. Or just operate a single unit.
How To Play RPG Games
This category is quite huge. You'll see it has lots to offer: from 2D platformers to realistic 3D universes. Same for themes and locations. It is unbelievable how many places you're going to visit. On this page ancient kingdoms stand next to futuristic megapolices. You are about to save villages and cities, fight aliens and wizards.
Before the adventure starts, you get to know all the main rules. And you'll receive detailed instructions during the play. Solve mysteries and undertake quests. Work together as a team. Or act on your own if it's single player mode. Get ready to apply your talents and have them trained. Attention, decision making, forward-thinking - you'll need all of them, and more.
Enjoy RPG Games Free And Safe
Our RPGs are available on any type of device. You don't have to install anything or spend money. Play safe and free. Invite your mates to join you. Share your records with the gamers' community. Enjoy the best titles ever existed, and good luck!
---
We carefully selected 14 of the greatest RPG Games and made them available for you online for free.
This archive consists of browser games for desktops and mobile platforms as well as titles specifically designed for tablets and phones. Here you will find some truly amazing gems like Yorg.io 3, Ultra Pixel Survive Winter Coming, Hotel Hideaway, Mini Fighters: Quest And Battle, Noob Huggy Winter, and tons of other awesome free games.
---
Also people ask about RPG Games
What is RPG games?

In role-playing games, the user steps into the shoes of a fictional character. Explore the virtual world, kill monsters, upgrade various skills, and influence the story.

What are good free online RPG games?

Path of Exile, Lords.io, Dynamons World, and Last Mage Standing are amazing free RPGs.

Where can I play RPG games?

Play free role-playing adventures on Kevin Games without installation.