What are the most popular io Games?
What are the new io Games?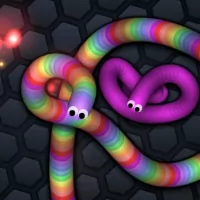 Play Free io Games Online
If you are looking for io games you have come to the right place: Kevin Games archive features dozens and hundreds of both multiplayer and singleplayer titles that are just one click away. Legends like Agar.io, Paper.io 2, Slither.io and many others are waiting for players who are ready to compete with the best of the best and aspire to dominate the leader boards. If you want to find out more about playing .io games online read on!
What are io Games?
This category of electronic entertainment is formed around a very specific phenomenon that came into existence several years ago and has been contributing to down-time in classrooms and workplaces ever since. What makes .io games fun and separates them from all the others is their accessibility: ever since most of the modern internet browsers implemented hardware acceleration it has become possible to launch and enjoy completely playable action, arcade and shooting games in regular open tab. The "io" part is just a domain name that the first viral sensation Agar.io used as a web address – since then it has become almost tradition to add this little embellishment to the titles of similar games.
Another distinguishing characteristic has to do with the fact that the concepts and ideas behind these games are usually pretty simple. Hole.io, Little Big Snake, Wormate.io and Wormax.io all use the same premise: control your character from above, consume energy to grow and be able to defend yourself from others. This simplicity is actually a great strength because it makes the rules extremely easy to understand while the multiplayer aspect balances the difficulty level out making things a lot more challenging – when the game is easy for everyone, it's easy for no one.
The hardware and software limitations that come with the necessity of fast responsive multiplayer on low-end devices force the developers to carefully consider which mechanics to implement and which to leave out, effectively making io games free of any unnecessary elements and awkward game design choices. Some still try to push the limits though, successfully creating real battle royale free-for-alls and sandbox survival simulators.
io Games list
Here on Kevin Games we take the responsibility of providing the players with both classic and modern .io games very seriously. In our archive you won't find any broken links, poorly designed or simply unworthy entries. What you will find is one of the most complete collections of time-tested titles as well as dozens of newer ones that deserve your attention for one reason or another.
Try your hand at co-operative puzzle games like Skribbl.io, see how long you can stay alive in Surviv.io and have some fun in multiplayer of Deeeep.io and Mope.io. Original arcade, action and shooting games are constantly added to our list that you can explore at your own pace. Even if you have never heard of io games play a couple just to get an idea of what you've been missing out on – chances are, you will become an avid supporter who never skips a new addition when it comes out!
---
We carefully selected 339 of the greatest io Games and made them available for you online for free.
This archive consists of browser games for desktops and mobile platforms as well as titles specifically designed for tablets and phones. Here you will find some truly amazing gems like Battletabs.io, Little Big Snake, Venge.io, Hurricane.io, Battlefields.io, and tons of other awesome free games.
---
Also people ask about io Games
What does IO mean in games?

Originally, .io is a website domain. It is typically associated with browser games available without installation. Many of them are top-down competitive arenas, like Agar IO, Paper IO, and Slither IO.

What are IO Games?

IO games are typically free-to-play competitive multiplayer arenas designed to run in browsers without installation. They are generally characterized by simple mechanics, basic graphics, and addicting gameplay.

What are the best IO games?

There are many great IO games. The most famous ones are Paper IO, Slither IO, Agar IO, Hole IO, and Zombs IO.