What are the most popular Minecraft Games?
What are the new Minecraft Games?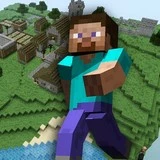 Play Free Minecraft Games Online
Minecraft games are the most popular and best-selling in the world in the sandbox genre. In 2020, it managed to sell more than 200 million copies of the games. They are also distributed on many gaming platforms (Playstation 3, Playstation 4, Xbox One, Windows). They are even ported to Android and iOS.
What can you do here?
These games provide you with an absolutely open world similar to Lego. You will have to play in the first person. Depending on your wishes and tastes you can switch the view from the third person. There are many variations of the games. They all have one thing in common. In the game, literally all what you use have the shape of a cube. The games do not set you any tasks. You have complete freedom of action. With the help of the workbench, you can build houses, set traps, hunt. Raise livestock for food or move around the square world. There are two game modes to choose from: "survival" and "creative". In the first, you will have to defend against enemies. In the second, on the contrary, you have a full set of all items. In the "creative" mode there will also be no enemies and other troubles that are in the "survival" mode. Play Minecraft games and spend your free time exploring the interesting world of the game
Enjoy spending your time joyfully
Precisely designed special effects will give you a complete immersion in the atmosphere of the game. From these games, everyone will find something for themselves that they will definitely like. Choose your lovely option and play with friends right now on the Kevin games.
There are Minecraft games online on our website
The game has several genres and includes the following individual different games. Here you can play in the conditions of the zombie apocalypse. If you like shooter games, you can play in the conditions of a shootout. Those who like to build houses in peace will find a classic variation of the game. There are all the Minecraft games free here on our website. Also, there is no need to install!
---
We carefully selected 9 of the greatest Minecraft Games and made them available for you online for free.
This archive consists of browser games for desktops and mobile platforms as well as titles specifically designed for tablets and phones. Here you will find some truly amazing gems like Mineworld Horror The Mansion, Mine-Craft.io, MineFighters.club, Minecraft.io, BloxdHop, and tons of other awesome free games.