What are the most popular Taxi games?
What are the new Taxi games?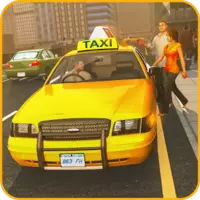 Play Free Taxi games Online
Never underestimate taxi drivers! This profession is filled with interesting stories and things to do. Play taxi games and take part in all kinds of activities. Participate in urgent drives, mastermind routes, or avoid crashes in fast-paced traffic. Ready to break a couple of rules? Don't be shy to do it in virtual reality!
Sitting at the Wheel
Try a classical simulator called City Taxi Simulator 3D. Here you pick up passengers and get them to their destinations. The difficulty is the gameplay itself: the controls are very sensitive. Pay attention to the timer and fuel, fulfill rounds and come to next levels.
Want to use the car in a different way? Welcome to the Real Taxi Car Stunts 3D Game. No need to bother about clients here. Just fly above the city. Perform crazy tricks in the air and collect coins for better vehicles.
Relying on Logic in the Taxi Games Online
Some titles focus on more thinking than on reaction skills. For example, the Taxi Pickup offers to manage your car fleet by building tracks beforehand. You have all the info you need, such as:
Where the clients are;
Where they want;
How many vehicles you have at hand;
Make sure your management is effective and doesn't cause collisions. It's a real puzzle, sometimes quite challenging. Apply to hints if you see no way out.
Fans of long journeys are sure to like Train Taxi. It features 52 demanding levels that require all your wits to complete them. Launch several trains on looped tracks and make sure they don't bump into each other. Mind the obstacles and calculate the perfect timing to succeed.
More to Find
Try other taxi games free of charge and experience all the adventures they offer. The links to the titles are waiting for you on Kevin Games. Click and join browser entertainment options with us.
---
We carefully selected 5 of the greatest Taxi games and made them available for you online for free.
This archive consists of browser games for desktops and mobile platforms as well as titles specifically designed for tablets and phones. Here you will find some truly amazing gems like Taxi Pickup, Train Taxi, Real Taxi Car Stunts 3d Game, City Taxi Simulator 3D, Pick Me Up Taxi, and tons of other awesome free games.
---