What are the most popular Cartoon Games?
What are the new Cartoon Games?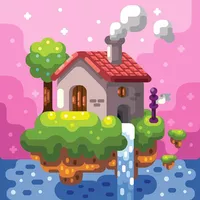 Play Free Cartoon Games Online
There are a lot of cartoon games online. But not all of them are interesting to play. The matter is, the mechanics and objectives must be interesting to attract users. We've found cool browser toys, which are implemented in a cartoon style. And their content is highly hooking for anyone to fall in love with them. Pick any and dive into the magic of entertainment.
A Feature That Unites
The collection contains titles, which boost one's logical thinking. These clever games make you focus and strive for finding the best solution. For example, several of them are dedicated solely to collecting puzzles. The Cartoon Puzzle HD is one of the best virtual toys. Having several pictures to meddle with, the visuals are mesmerizing. Adjust the difficulty. Get enough experience. Jump from easy 25 elements to put together to almost impossible 100!
Play Cartoon Games and Get Eagle-Eyed
The Cartoon Animals Differences seems to be simple. You must have done the same in real life a dozen times. Just find the difference and mark it. However, some of them are so delicate that it takes time to notice them. Locating bigger alterations is not a big deal. But as you continue the round, it gets more challenging. You'll need to look more attentively to spot a missing nail on the fence. Or an extra piece of hair in the donkey's mane.
Matching is Meditative
You'll even find match 3 genre in the list. Cartoon Candy 3D is a mouth-watering title that offers to connect at least 3 pieces together. As they vanish, more delicates come for you to deal with. It's a pity you can't really have a bite of this sugar-saturated food. At least you can use them to get a lot of scores. Wanna start playing the Cartoon Games free from registration? There is a solution! Come to Kevin Games. Enjoy the title you like without being bothered by annoying procedures.
---
We carefully selected 16 of the greatest Cartoon Games and made them available for you online for free.
This archive consists of browser games for desktops and mobile platforms as well as titles specifically designed for tablets and phones. Here you will find some truly amazing gems like Cartoon Police, Cartoon Motorcycles, Ambulance Slide, Cartoon Ambulance, Cartoon Autumn Puzzle, and tons of other awesome free games.
---