What are the most popular Maze Games?
What are the new Maze Games?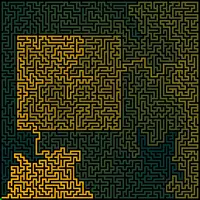 Play Free Maze Games Online
Looking for a cool brain teaser? Then you must try one of these awesome maze games! Free and easy-for-all, they bring hours of joy. Reveal the secrets hidden in the darkest corners. Find the exit from the most guarded temples. Test your logic, forward-thinking, reaction, and other skills.
One page, all types of action
This category covers so many genres. Not a chance you won't find something you'd like. The concept itself is as old as the world. People always look for a way out. Above all, stay optimistic: there is at least one. Getting there takes time and effort. Still, it's worth trying.
Play maze games on our website
Explore the world of twists and turns. All you need is a stable internet connection. We've got a nice selection of browser activities. None of them requires an installation. You won't have to fill in your personal data to create an account. And this content is safe for any type of device. Easy access is for everyone. Use a laptop, a mobile phone, a tablet, or even a Chromebook.
Choose from the best maze games online
Start a unique adventure. Here's a piece of advice for even better performance. Usually, each level is a new playground. It can be a dungeon, a desert island, a battlefield, etc. Your task is simple. Guide the main character through the labyrinth. Help him/her reach the destination. It can be some precious gem or just a way out. The freedom is priceless, though jewels and coins are ok, too.
Besides powerups and boosts, there will be enemies on your way. Change directions when you see them approaching. If they chase you, there are two possible scenarios. You either beat back or try to escape. You'll get a chance to collect weapons and magic items. Profit by any means you've offered.
Take a break from reality at Kevin Games. We publish last releases and all-time legends. Enjoy them at any time, from any place. Good luck!
---
We carefully selected 10 of the greatest Maze Games and made them available for you online for free.
This archive consists of browser games for desktops and mobile platforms as well as titles specifically designed for tablets and phones. Here you will find some truly amazing gems like Tank Fight, Hide N Seek, Ultracraze, Island survival 3d, Balls Out, and tons of other awesome free games.
---