What are the most popular Robber Games?
What are the new Robber Games?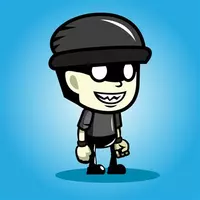 Play Free Robber Games Online
Thanks to electronic entertainment, players can explore occupations they wouldn't have been able to otherwise. Unsurprisingly, many gravitate towards virtual adventures inspired by professions that are too dangerous in reality. And a large portion of them is dedicated to the subject of criminal activities. Today, there are more robber games online than ever before. Depending on the specific release, their gameplay revolves around thievery, burglary, or police work. Become a cunning mastermind capable of breaking into heavily guarded facilities. Or defend valuable items from those plotting to steal them. The choices are so numerous that newcomers often don't know where to begin. This overview will introduce them to the niche and highlight several intriguing subgenres to consider.
Illegally Fun
In the real world, breaking and entering is not something to be taken lightly. Not only is it immoral, but the risk of getting caught is quite substantial. However, when it comes to simulations, nothing can be more enticing. There are no consequences and no victims to worry about. What remains is a thrilling and memorable experience with plenty of amusing moments. On Kevin Games, there are many variations on this exciting theme, for instance:
Platformers and side-scrollers with stealth action and subterfuge elements
Point-and-click puzzles that revolve around planning and executing ambitious heists
First- and third-person shooters where the goal is to fight crime and stop robberies
Miscellaneous logical brainteasers that have to do with lock picking, pickpocketing, and looting
In this diverse collection, users will easily find something to suit their taste. Don't be afraid to experiment and discover new hidden gems every day.
How to Play Robber Games Without Installation
Consistently delivering top-notch quality is anything but trivial. It requires a lot of time and effort from multiple talented contributors. To make it worth their while, developers have to get something in return. But that doesn't necessarily mean that consumers have to put up with outrageously high prices. An increasing number of studios opt for alternative monetization strategies. Consequently, fans can enjoy unabridged versions of their works without paying anything. All they have to do is open a popular content aggregator like this one. Browse the desired section, click on any thumbnail, watch a short ad, and press Start.
Ironically, no piracy is necessary to access robber games for free. Become the most elusive outlaw who ever lived or a fearsome hero protecting honest citizens. Launch the official web-friendly apps in any browser and have a blast.
---
We carefully selected 5 of the greatest Robber Games and made them available for you online for free.
This archive consists of browser games for desktops and mobile platforms as well as titles specifically designed for tablets and phones. Here you will find some truly amazing gems like Robbers in Town, Shoot The Robbers, Grand Bank: Robbery Duel, Robber Vs Police: Fighting, Lazy Robber, and tons of other awesome free games.
---