What are the most popular Space games?
What are the new Space games?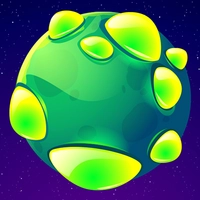 Play Free Space games Online
Exploration of new worlds is a collective passion of humankind. Hundreds of years ago adventurers went on difficult journeys across the sea. The next frontier is up there, among the stars. Unfortunately, such an ambitious goal is out of reach for regular people. However, anyone can enjoy space games free of dangers and hardships. Become a daring pilot, a natural-born leader, or a selfless trooper. Traverse the galaxy, land on unfamiliar planets, investigate anomalies. Defeat hordes of evil aliens, and protect peaceful species from invaders.
A Universe of Fun
Sci-fi-related themes are perfect for creating various works of fiction. They allow the imagination to run free and fill in the gaps on its own. That's why titles about starships and extraterrestrial monsters are so popular on Kevin Games. The genre diversity is so great that finding suitable options is never an issue. Here are a few examples:
Intense scrolling shooters where squadrons of enemy ships are coming from all sides
Challenging platformers where shimmering stars and beautiful nebulas serve as backdrops to the gameplay
Pixel-hunting and physics-based puzzles that turn gravity and other natural phenomena into engaging mechanics
It's impossible to list all the available varieties. Browse this category and discover dozens of top-quality options.
How to Access Space Games Online
Modern hardware is capable of running advanced graphics in real-time in a regular browser tab. This site specializes in collecting this kind of entertainment and delivering it to the players. Look through the constantly updated entries, open the most appealing one, and press Start. Use the mouse and keyboard to control the character or vehicle. Stretch the window to a comfortable size or activate the full-screen mode.
Humans would like to believe that they are not alone in the universe. Currently, there is no way to prove or disprove that. At least it's possible to meet new life forms and civilizations in virtual environments. Play space games and become a pathfinder looking for unexplored corners of infinity. Who knows what lies ahead in the most distant sectors.
---
We carefully selected 24 of the greatest Space games and made them available for you online for free.
This archive consists of browser games for desktops and mobile platforms as well as titles specifically designed for tablets and phones. Here you will find some truly amazing gems like Moon Mission, Torn.Space, DAUD.IO, Snowball War Space Shooter, Galaxzynos, and tons of other awesome free games.
---
Also people ask about Space games
What are the best space games?

No Man's Sky, Elite Dangerous, and Outer Wilds are great space exploration games. Space Engineers is a simulator that revolves around building starships and stations.