What are the most popular Escape Games?
What are the new Escape Games?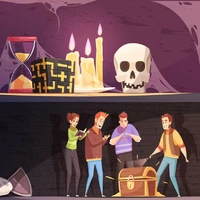 Play Free Escape Games Online
If you're looking for an adventure then play escape games
These games are akin to quests, because for the main task – escape. It is necessary to scour the perimeter in search of useful items to activate them. It is pleasant to turn to such toys from time to time. As they often have the original humor. And the escape games free are diverse and simple.
Fans of the genre will always get their portion of entertainment. There are enough of them to start every night with a new puzzle. There is a twist in each character. It gives preference to one of the stories.
In each game there's a new adventure
Rascals and travel lovers will enjoy adventure themes. Imagine that the mummy, buried in his tomb thousands of years ago, suddenly woke up. As you know, there're pyramids inside abound mazes, secret rooms, and traps. Determined to get out of it, the mummy must overcome all of the traps. As you make your way inside the gloomy building. Look for anything that can help you get out, as well as jump obstacles and beware of traps.
Travel the world
You'll easily witness excavations in Egypt. It's so fascinating to learn about ancient cultures, their knowledge, and traditions. In these games you get lost in the ruins and can't find your way to the camp. Water, of course, you do not have, you did not plan a long walk. The sun is burning mercilessly and a little more, and the heat will finish you. Really there is a small hope to receive precious moisture from the ancient machine, but it is broken. But to fix it, you need to find the missing parts and figure out how to start the mechanism.
Join escape games and travel the sea
Pirates and ordinary fishermen sometimes punished their companions by stranding them on an uninhabited island. Surviving alone and without means was very difficult and people simply died. But remember Robinson Crusoe, who spent several years on such an island. So, being away from civilization, you should not just survive by any means. You need to find a way to get away from this deserted beach. But even if that seems impossible to you, think that at least you are on land.
In Kevin Games you can find yourself on an alien, unfriendly planet. Now the lonely island will seem like paradise and a longed-for dream. Meteorites are raining down on you, aliens have proven inhospitable and are attacking your car with blasters. How do you get out of such a mess?
Learn history
History museums are another unfriendly place. They are designed to bring back memories of the past. There are exhibits and mummies of once-majestic leaders, kings, and pharaohs. Perhaps that's why such museums are always full of mysteries. There are tales of ghosts wandering the corridors at night. One day you found yourself in one of them, and an absolutely incredible thing happened. You were transported through time and found yourself in the Middle Ages. Before you are captured and executed as a spy, it is better to start looking for a way out.
Escape from the dark house on Halloween - a common theme. Some buildings are even creepy to go in the daytime. But at night! And when the monsters are surrounding! Try to get out of such a situation in escape games online unharmed.
---
We carefully selected 44 of the greatest Escape Games and made them available for you online for free.
This archive consists of browser games for desktops and mobile platforms as well as titles specifically designed for tablets and phones. Here you will find some truly amazing gems like Doors!, Maze 3D, FNAF 5, City Rush Run, Fireboy and Watergirl 4 Crystal Temple, and tons of other awesome free games.
---
Also people ask about Escape Games
What are Escape games?

Escape games are brain teasers where the goal is to unlock the door and leave. They involve exploration, pixel-hunting, and puzzle-solving.

How to play Escape Room games?

Getting out usually requires solving a series of interconnected puzzles and unlocking doors. Use the mouse cursor to highlight objects and areas of interest. Left-click to interact with them.