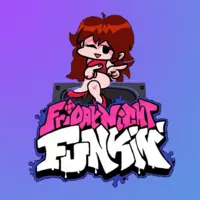 Rhythm games have been around for a while but recently they went through a renaissance. The donation-based singing simulator Friday Night Funkin has put the genre back on the map. It has everything the fans have been waiting for and more. Groovy electronic tunes, unlikely protagonists, silly storylines, and memorable villains create a small universe. The gameplay is extremely simple yet challenging at the same time. The goal is to perform a vocal line by pushing certain buttons. The timing aspect is inspired by the classics like DDR. Obviously, FNF was intended for PC players who use their keyboards instead of dancing pads. Sync the keystrokes to the track's tempo in order to maximize the score. The initial plot revolves around Boyfriend who wants to date Girlfriend. Unfortunately, the first boss, Daddy Dearest, won't have it. He believes only a true star is worthy of his daughter. The only way to change his mind is to beat him in a musical duel.
FNF Unblocked
There are multiple versions of the sim floating around online. It is often difficult to figure out which one is the final variant. The issue started in the early days when the first episode was released. Since then, additional levels have been added several times. The core series is continuously updated and expanded. In order to avoid confusion, beginners should stick to the build featured on Kevin Games. It contains all the latest additions to the franchise available at the moment. This FNF is the official one, without any modifications, extra elements, or other gimmicks. Gamers who have been searching for the pure experience should look no further. However, keep in mind, that all the chapters are unlocked from the get-go. There is no need to clear a certain stage to proceed to the next. Although the order doesn't really matter, some may want to stick to the chronological progression. They should start from the beginning and follow the story as the canon suggests. Here's the summary of all the installments:
Friday Night Funkin Week 1 is where it all started. The love interest's dad challenges BF to a talent competition.
Friday Night Funkin Week 2 is a spooky adventure taking place in GF's house. Defeat Skid and Pump to banish them from the premises.
Friday Night Funkin Week 3 introduces a weird kid named Pico. He is armed and ready to sing his heart out from city rooftops.
Friday Night Funkin Week 4 is the time to meet Mommy Mearest. She has a support group of devils dancing on moving limos.
Friday Night Funkin Week 5 is a kind of a winter holiday special. The parents team up to try discourage their daughter's lover from seeing her.
Friday Night Funkin Week 6 appeals to all anime enthusiasts. Senpai, a dating sim NPC, escapes the prison of his portable console. Don't let his pixelated looks charm and deceive the characters.
Friday Night Funkin Week 7 is the latest part set in a post-apocalyptic landscape. A crazy vet called Tankman engages trespassers in a freestyle battle.
FNF Free
From day one, the project was intended to be completely open-source in nature. The creator kept the promise, so the entire code is currently available on GitHub. Anyone with basic programming skills can legally copy and recompile it at any moment. This makes it easily accessible and impossible to put behind a paywall. Of course, the fanbase has been really active and helpful in many ways. All the hard work would be for nothing if it wasn't for their enthusiasm. They practically sponsored Friday Night Funkin without forcing others to pay a dime. Each user decides whether to support the development with their hard-earned money on their own. Even though the game occasionally encourages to do so, these reminders are not intrusive. Different people contribute to the things they love in various ways, and not necessarily financially. Just remember that transferring just a few dollars is incredibly helpful. Other than that, don't worry, and enjoy the entire adventure without breaking any laws.
FNF Online
Possibly, the greatest advantage of the game often goes unnoticed. It runs in a regular browser on almost any device connected to the Internet. This means no tinkering with files or software clients, no user profiles or security concerns. Just wait for the menu to load and navigate it using the Arrow keys. There is an option to download the installers for multiple systems. Those interested should visit the official website to find it. This alternative is convenient but doesn't receive automatic updates. The regular FNF version presented here will always be superior in that regard. Launch it on any compatible platform and have fun.
---
FNF Online is one of the best FNF Mods you can play on Kevin Games.
This game works perfectly in modern browsers and requires no installation.
FNF Online has been played by thousands of gamers who rated it 4.1 / 5 with 15624 votes.
Did you enjoy this game? Then give other FNF Mods, Music Games, Cool Games, Friv Games, Skill Games a try.
---
Also people ask about FNF Online
How to Play FNF Online?

Friday Night Funkin web version is available on Kevin Games. Open the website in any modern browser and launch the game in the same window.

Where to Play FNF Mods Online?

Kevin Games has the ultimate FNF Mod collection. Access them without installation using any modern browser.