What are the most popular Alien Games?
What are the new Alien Games?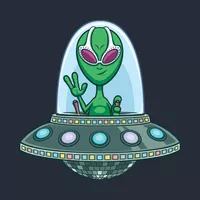 Play Free Alien Games Online
Space creatures: nice, aggressive, neutral... Play alien games to encounter all types of fellows and see them in different circumstances. We've picked up only the most popular adventures and united them into 1 category. Thus making it easy for users to find the best options in 1 place. Check out the collection yourself!
Features that Hook
Being unique in almost every aspect, there is 1 thing that unites the titles. Graphics and attention to detail pleasantly surprise and make the first positive impression. Moreover, their gameplay is not a piece of cake. The toys are challenging enough, but not too much.
Types of Alien Games Online
Wanna relax with casual titles? Then take on the role of a huge interstellar snake and devour planets to grow. Or catch cute space guys with a crane to take them to a safe place. Both entertaining and meditative, they can carry you away for a couple of hours.
In case you are a fan of fast-paced adventures, try shooters. Resembling a popular arcade from the 80s or completely new ones, they are action-rich. Maneuvering and leveling up, you destroy enemies and get scores to win.
And if you are in for a bit of strategic thinking, become a commander. Send robots to protect your planet from beasts. Think about how to approach different hordes and come up with a timely plan.
No Life without FAlien Gamesun
It is true, sometimes you get more emotions playing with a friend. We also offer titles designed for 2 participants! Heavily focused on cooperation, you become a real team and solve tasks on risky missions. Enjoy alien games free of charge on our website. With hundreds of toys available, it is a convenient platform to hang around. Kevin Games invites you to come and have a good time online!
---
We carefully selected 9 of the greatest Alien Games and made them available for you online for free.
This archive consists of browser games for desktops and mobile platforms as well as titles specifically designed for tablets and phones. Here you will find some truly amazing gems like Alien Spaceship Shooter, Neon Invaders, Claw Crane, Aliens Attack, Alien Slither Snake, and tons of other awesome free games.
---