What are the most popular Traffic games?
What are the new Traffic games?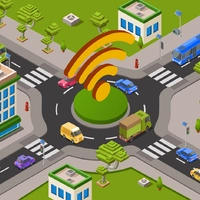 Play Free Traffic games Online
Humans have evolved to solve problems and take pleasure in doing so. But that excitement quickly wears off and the tasks become boring and repetitive. In reality, the most trivial aspects of everyday life are truly fascinating. Thankfully, the gaming industry has figured out how to make routine activities interesting again. Even something as uneventful as commuting to work has inherent entertainment value. That's why thousands of users play traffic games despite actually driving around every day. These little gems of amusement find ingenious ways of gamifying the seemingly unremarkable process. Explore endless interstates, avoid collisions, and regulate busy intersections. Help pedestrians safely cross the street and reach the other side. There is no shortage of engaging playstyles in this oddly specific niche. Check it out and have fun for hours on end.
Eyes on the Road
Titles representing this category are easy to confuse with racing. Both are present on Kevin Games and have their audience. And although there is a number of similarities, they are usually superficial. Fundamentally, these are completely independent subgenres with different goals. In this case, the assortment consists of the following variations:
3D and isometric highway simulators with procedurally generated assets that can potentially continue forever
Junction regulation puzzles where the objective is to prevent accidents
Frogger-style crosswalk action where the player has to traverse high-speed freeways on foot
The examples above are just the tip of the iceberg. Give them a try and browse the selection to discover more amazing options.
How to Access Traffic games Online Without Installation
By their very nature, these digital delights are not meant to be immersive experiences. They are simple, lighthearted, and stimulating distractions intended for relaxation and stress relief. With that in mind, companies strive to make them as accessible as possible. This site specializes in collecting such offers all in one place. To launch any of them, open this page in a capable browser and press Start. Enjoy impressive visuals and awesome gameplay without downloading any files to a local machine.
Look at the world in a new way through the lens of interactive adventures. Even the mundane concept of city transit has the potential to bring immense joy. Unlike their traditional counterparts, traffic games are free and available on nearly any device. Navigate continuous streams of vehicles as if they weren't there. Predict and avert dangerous situations in advance and come out unscathed. Good luck and Godspeed!
---
We carefully selected 10 of the greatest Traffic games and made them available for you online for free.
This archive consists of browser games for desktops and mobile platforms as well as titles specifically designed for tablets and phones. Here you will find some truly amazing gems like Trafficcontrol, Tiny Cars, City Public Cycle Rickshaw Driving Simulator, Miami Traffic Racer, Moto Bike Rush, and tons of other awesome free games.
---