What are the most popular Arcade Games?
What are the new Arcade Games?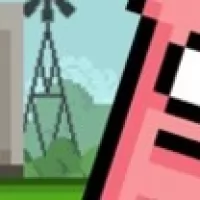 Play Free Arcade Games Online
It is impossible to imagine the world of electronic entertainment without arcade games. Back in the 80s arcade machines were the point of origin for many titles that are now considered classics. Initially, the term was used to describe all sorts of games that were available in those amusement centers but today we usually use it to describe a specific category of titles distinguished by their basic gameplay, simple level design and signature mechanics – think Pacman, Space Invaders and the like.
There is a case to be made that in this day and age many .io games can be considered successors to the retro classics because they all feature certain aspects that make arcade games fun. Titles like Slither.io, Agar.io and Paper.io are all designed around a basic concept: control your character from top-down, consume food or energy to grow, stay away from the players who are more powerful than you and attack the weaker ones. Little Big Snake features similar mechanics but spices them up with even crazier visuals. There is usually only one level, the graphics are colorful but very light on the hardware and the entertainment value is apparent from the very first second.
No matter how much time you spend with arcade games playing them never gets old. There's always some new gimmick, some fun mechanic or design choice that surprises you and keeps you entertained for hours. Here on Kevin Games you can consume trees, cars and buildings as a giant black hole in Hole.io, become the longest slithering monster in Little Big Snake, pilot a combat aircraft in Wings.io or go treasure-hunting in King of Thieves. Today's technology makes it possible to play arcade games online with other players which multiplies the fun exponentially.
While the entertainment value these titles provide is could be worth a lot the Kevin Games team strongly believes in keeping arcade games free: they should always be accessible to whoever needs a break or a moment of rest from their daily struggles. Give some of them a try and you will become a fan in no-time.
---
We carefully selected 658 of the greatest Arcade Games and made them available for you online for free.
This archive consists of browser games for desktops and mobile platforms as well as titles specifically designed for tablets and phones. Here you will find some truly amazing gems like Kill Zombie, Fishing Frenzy, Bowroyale.io, Johnny Revenge, Cutting soap, and tons of other awesome free games.
---
Also people ask about Arcade Games
How to win arcade games?

Most arcade games are impossible to win. The goal is to beat the current high score or set a personal record.

What are arcade games?

Classic arcade games are coin-based entertainment machines. Enthusiasts often create PC ports to enjoy them on regular computers. Kevin Games features free browser-friendly alternatives like Little Big Snake, Tetranoid IO, and Wormax IO.