What are the most popular Coffee Games?
What are the new Coffee Games?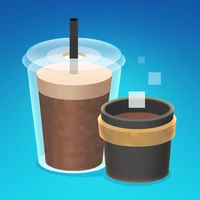 Play Free Coffee Games Online
Unlike animals, humans are very fond of various performance enhancers. Some are so powerful that they have a negative impact on health in the long-term. But as far as stimulants go, caffeinated beverages are nearly harmless when consumed in moderation. They are diverse, tasty, invigorating, and satisfying. Unfortunately, many individuals seem to enjoy them a little too much. After yet another cup, they end up feeling anxious and agitated rather than energized. Instead of overindulging, consider quenching that thirst with online coffee games. Make and taste delicious lattes, cappuccinos, and macchiatos. Experiment with ingredients to invent amazing new recipes. Run a cozy coffee place and make hundreds of customers happy. Or explore imaginary worlds, consisting of milky delights, wonderful aromas, and espresso goodness. Figure out where to begin by reading a brief overview of the available subgenres below.
What's on the Menu
Classifying electronic entertainment by theme is not exactly informative. Typically, players prefer certain mechanics and playstyles, and care a lot less about specific subjects. But in this case, the culture surrounding the phenomenon is incredibly rich. Consequently, it deserves a separate category of its own. Here's what Kevin Games has in store for the most passionate caffeine enthusiasts:
Simulators that involve brewing real-life and fantasy drinks, and serving them to clients
Business tycoons where the goal is to open and manage a cafe
Classic platformers, side-scrollers, and other titles featuring mugs, beans, and associated items as their protagonists
Miscellaneous puzzles and brain-teasers in the same setting
The range of choices is incredibly vast. After some trial and error, everyone will be able to find something to taste.
How to Play Coffee Games Without Downloading
Millions of people frequent their favorite cafeterias every day. Sadly, sustaining this lifestyle is not cheap. While a price of a refill is not outrageous, expenses eventually accumulate into significant sums. Thankfully, digital experiences are a lot more affordable. Websites like this one publish top-quality content without any paywalls. Instead of parting with their hard-earned dollars, visitors can simply watch ads between the sessions. Browse the catalog, click on any thumbnail, and access the official product without paying anything. Use Chrome, Firefox, or another popular browser to launch any app in a regular tab. Don't forget to disable ad-block in order to prevent possible performance issues.
Nothing compares to taking that first sip of the miraculous nectar of the gods. Even thinking about it brings joy and gives a person something to look forward to. Check out dozens of outstanding coffee games for free, and drift on their blissful waves. Become a skillful barista, and create the most exquisite brews imaginable for hours on end.
---
We carefully selected 3 of the greatest Coffee Games and made them available for you online for free.
This archive consists of browser games for desktops and mobile platforms as well as titles specifically designed for tablets and phones. Here you will find some truly amazing gems like Coffee Puzzle, Coffee Stack, A Cup Of Coffee, and tons of other awesome free games.
---