What are the most popular Cinderella Games?
What are the new Cinderella Games?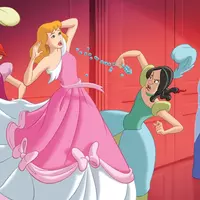 Play Free Cinderella Games Online
The folk tale about the little glass slipper is a story passed down for generations. It has been reimagined numerous times in literature and film. And now interactive entertainment breathes new life into the age-old fable. There are many high-quality Cinderella games online. Thanks to them, kids and adults alike can experience the magical narrative personally. This overview aims to introduce newcomers to the niche and highlight its greatest products.
When Dreams Come True
There are countless series and franchises dedicated to princesses and their royal lifestyles. But few titles capture the amazing transition from rags to riches. The fact that a poor housemaid can become a gracious lady is inspiring and wholesome. But there are many different ways to approach the subject. Kevin Games carries several noteworthy interpretations in the following subgenres:
Traditional point-and-click adventures with pixel-hunting and hidden objects mechanics
Dress up and makeover simulators featuring the iconic protagonist
Virtual dating and romance simulators
Miscellaneous matching and merging puzzles, and other casual gaming apps
These variations form a sizable collection where anyone will find something to suit their taste. Some options appeal mostly to children, while others are enjoyable at any age. Don't hesitate to experiment and check out what this category has to offer.
How to Play Cinderella Games Without Downloads
Given the sentiment of the original, it seems inappropriate to charge players for its retellings. Nevertheless, developers have to generate income somehow in order to keep food on the table. Thankfully, there is an excellent compromise. Instead of parting with their hard-earned dollars, consumers can watch short ads between the sessions. A percentage of the revenue goes to the creators. Meanwhile, the audience gets to enjoy unlimited playtime through websites like this one. To access any of aforementioned the digital delights, open this page in Chrome or Firefox. Click on an intriguing thumbnail and wait a moment for the frame to load. When it does, use the mouse to navigate the interface and begin the journey.
Embark on a path of personal growth and transformation. Accompany legendary characters and help them accomplish whatever they set out to do. Unravel mysteries, overcome obstacles, or simply prepare for a big night out. Browse the most comprehensive catalog of Cinderella games for free and have a fantastic time.
---
We carefully selected 5 of the greatest Cinderella Games and made them available for you online for free.
This archive consists of browser games for desktops and mobile platforms as well as titles specifically designed for tablets and phones. Here you will find some truly amazing gems like Cinderella Twins Birth, Cinderella in Modernland, Cinderella Prince Charming, Princess Delightful Summer, The Cinderella Story Puzzle, and tons of other awesome free games.
---