What are the most popular Police Games?
What are the new Police Games?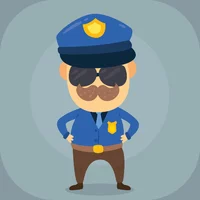 Play Free Police Games Online
Blinkers, shouts, sirens - what's going on here? Don't worry, Kevin Games has got you covered. Welcome right to the middle of high-tension actions. Are you ready to save the calmness of the city? Or the other way, to cause some troubles? Then press ahead this awesome set of police games online. It's time to remember everything you've seen in the movies and tv-series. Get ready for investigations, high-speed chases, and unlimited shooting.
Pick A Side, Start A Fight
There are actually two types of scenarios. First: you combat crime as a bold police officer. Second: you are the crime. It's up to you which side of never ending fight to choose. Both require maximum involvement. Too much is at stake, no matter if you pursue or run away. One way or another you'll get a real adrenaline pump.
Play Police Games With Friends
What do a policeman and a criminal have in common? They both need a reliable partner. Plus, one cannot exist without the other. That's just what 2-player mode and multiplayer are about. Play with your mates or challenge a random stranger. Just pick a buddy you can bank on to sum up your chances. But stay alert: these streets are full of secrets and betrays. Trust, but verify.
Enjoy Police Games Free
Just a few clicks divide you from adventure you'll never forget. Become a hero of the day without leaving your comfort zone. Explore the gloomy world of felonies. All you need is a compatible browser. No installs or hidden payments. Use any type of device: PC, tablet, or phone. Grab a gun, and go!
---
We carefully selected 13 of the greatest Police Games and made them available for you online for free.
This archive consists of browser games for desktops and mobile platforms as well as titles specifically designed for tablets and phones. Here you will find some truly amazing gems like Cartoon Police, Police car stunt simulation 3d, Mr cop master, Flying police car simulator, City Police Cars, and tons of other awesome free games.
---