What are the most popular Tower Defense Games?
What are the new Tower Defense Games?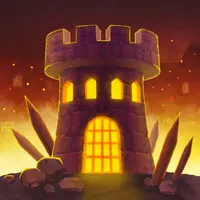 Play Free Tower Defense Games Online
Can a simple idea give rise to a whole category? Sure it can! Tower defense games online prove it. The result can be quite interesting. How does a single task evolve into a complex gameplay? Here's a bright example. Or, better to say, heaps of them.
Protect Your Homeland
A true defender is a lifelong occupation. Get ready to act in different locations and timeframes. From the Middle Ages to the far away future, towers need heroes. Are you brave enough to become one of them? If the answer is "yes", you're in the right place. Check out the Kevin Games' selection.
A tower itself can be a metaphoric or a real one. For example, in Zombies Can't Jump you take a stand on wooden boxes. Their number grows, so you get higher above the ground. And it's good, as you can guess from the name of the title. While in Kingdom of the Wind there is another kind of situation. There you have a huge levitating island with a castle on it. The mechanics remain the same. Just like the most important goal of yours. Which is to protect what you've got.
How To Play Tower Defense Games
The rival troops are coming! Do everything it takes to defeat them. Apply tactics and strategy. Stay a step ahead of your enemies. You need to be a real forward thinker to prevent the threat. Sometimes you get the extra time to plan your series of actions. But there are cases when you need to react fast.
Titles from this category based on popular universes are also worthy. First of all we mean Minecraft Tower Defense. Like for real, this one is a perfect gift for all Minecraft fans. Which are numerous, as many researches reveal. Another cool option is Pokemon Tower Defense. Collect them all and try to save your collection.
Enjoy Tower Defense Games Free
Play safe from any place on earth. All you need is a compatible browser and an Internet connection. You're free to choose a device to use. It can be a PC, a phone, a tablet, or even a chromebook. No installs, no hidden payments here, on this page. Challenge your mates in multiplayer. Good luck, defenders!
---
We carefully selected 19 of the greatest Tower Defense Games and made them available for you online for free.
This archive consists of browser games for desktops and mobile platforms as well as titles specifically designed for tablets and phones. Here you will find some truly amazing gems like Kingdom Defence, Zombies coming, Battlefields.io, Lordz.io, Magic and guns, and tons of other awesome free games.
---
Also people ask about Tower Defense Games
What are tower of defense games?

In tower defense games the goal is to protect a stronghold from waves of enemies. Build various barricades, place melee and ranged units, and set traps to stop invaders.

Tower defense games where you attack.

Villanous and the Anomaly series are great reverse tower defense games.

How to win at tower defense games?

The goal is to prevent invaders from reaching the other side of the screen. To do that efficiently, study the weak points of various enemies. Anticipate the composition of their squadrons and build appropriate defensive contraptions.