What are the most popular Bubble Shooter Games?
What are the new Bubble Shooter Games?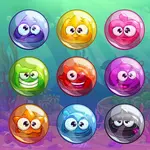 Play Free Bubble Shooter Games Online
Bubble shooter games online can make a great family activity. Many of them are designed for kids. Still gamers of all ages love them. They are easy, gripping, and fun. You'll find here some juicy graphics and cool music. For some reason the more you play, the more you want to keep playing.
Not A Chance To Get Bored
Enjoy bubble shooter games free on all devices. You will notice that the rules don't vary much. It is visual and audio where creators can go wild. And they do! Meet hilarious characters. Explore colorful universes. Travel to different times. You've never imagined bubbles to be so exciting.
How To Play Bubble Shooter Games
The most popular mechanic is to collect 3 or more bubbles of one color. This is typically followed by some kind of a burst. Then the field is renewed. New elements appear, and you get the points. Put together as many units as you can. Large built-ups are often rewarded with boosts and extras. Break world records together with Kevin Games. Invite your friends to take part in bubble battles!
---
We carefully selected 11 of the greatest Bubble Shooter Games and made them available for you online for free.
This archive consists of browser games for desktops and mobile platforms as well as titles specifically designed for tablets and phones. Here you will find some truly amazing gems like Among Them Bubble Shooter, bubble shooter, Bubble Balls, Monster cafe, Jungle Bubble, and tons of other awesome free games.
---