What are the most popular Shark Games?
What are the new Shark Games?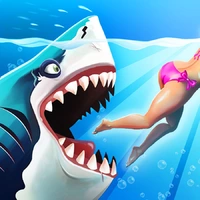 Play Free Shark Games Online
You may be afraid of sharks. At the same time, you are sure to like to play shark games. It is a perfect choice if you like to rattle your nerves, doing something exciting. Enter the world of sea creatures. Many adventures are waiting for you. Be in the monster's skin and try to chew as many people as you can. Or, on the contrary, escape sharp teeth and shoot at these fast killers.
Drown your Boredom in the Sea
Kevin Games offers a lot of titles on its website. Their plot varies dramatically. In some of them, you are a shark and try to eat people. While in others you are a human, striving to escape death. In any case, you get waves of emotions and unforgettable feelings.
As for the quality of entertainment options, we guarantee you only the best. Top-notch graphics and thought-out details of the surroundings help you to dive into the playthrough. Find your style of gaming. Trick your enemies: be it tiny people or dangerous sea monsters.
Are Shark Games Free?
It is a rare thing to find excellent quality with no need to pay. However, this selection offers a lot of variants, which are free of charge. Usually, one doubts at first. Then you check and can't stop, trying more dynamic adventures every day. Join thousands of players who have already tested these browser toys. Pick titles that appeal to you – you simply can't guess it wrong. All of them are gripping and fully engage you into new worlds and stories.
Convenience and Security First
Do you worry that your computer or mobile device may lack disc space? Well, you can relax now. Shark games online are browser toys, Which means you don't have to download them. And, logically, you avoid an installation process. Play on virus-checked platforms, such as our website, and have a great time. By the way, the adventures run on most devices, such as smartphones, PCs, and laptops.
---
We carefully selected 9 of the greatest Shark Games and made them available for you online for free.
This archive consists of browser games for desktops and mobile platforms as well as titles specifically designed for tablets and phones. Here you will find some truly amazing gems like Hungry Shark, HappySharks.io, Titanic Shark Attacks, Raft Shark Hunting, Angry Shark Online, and tons of other awesome free games.
---