What are the most popular Summer games?
What are the new Summer games?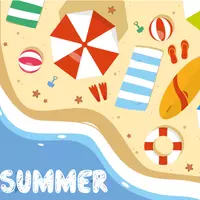 Play Free Summer games Online
The summer games online category is not necessarily about hot weather and water fun. First of all, it features cool things one can do during this time. Ported to the virtual world, they feature interesting gameplay and plots. It makes them hooking and popular among fans. Wanna try?
Fast-Paced Action
Feel competitive? Then you definitely need to compete with other boats in the Canoe Sprint. It's a racer that pits you against AI-driven opponents. As well as annoying obstacles that stand in your way. Speed up by collecting more oarsmen from the water and enlisting them into your team. Maneuver through the rocks and logs. Don't let your enemies dash forward!
Or challenge a pill in volleyball matches in the Pill Volley Beach. Yes, you've read it right: the players are not humans. But they have legs and arms to participate in heated rounds. Score more hits than your rival. Play with a friend or beat a clever AI and become the winner.
Play Summer Games and Choose Relaxing Options
Looking for a tool to train your grey cells? The best way is to do it through funny adventures. We have some cool virtual toys in the category. Try the Summer Drinks Puzzle. It features 6 pictures of refreshments and offers a flexible complexity system. Decide how many elements you want to bring together based on your experience. 16, 36, 64, or even 100 pieces… Just make sure you can really handle such a difficulty.
A cruel timer in the Summer Cars Memory makes it a more demanding title. Clicking on tiles, you see what they depict. And try to find 2 identical vehicles. Only 4 levels may sound like a piece of cake. But lose just in 1 round and start from the 1 level.
A Variety of Toys
There are other journeys for you to live through. Enjoy summer games free of charge on our website. Skip any registration procedures. Don't download anything to your devices. Launch the browser and scout Kevin Games pages for engaging adventures to dive into.
---
We carefully selected 7 of the greatest Summer games and made them available for you online for free.
This archive consists of browser games for desktops and mobile platforms as well as titles specifically designed for tablets and phones. Here you will find some truly amazing gems like Canoe Sprint, Summer fashion, Shopping Business, Pill Volley Beach, Princess Summer Sand Castle, and tons of other awesome free games.
---