What are the most popular Football Games?
What are the new Football Games?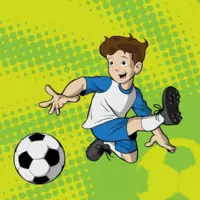 Play Free Football Games Online
You don't have to be a gym rat to enjoy sports activities. The on-screen entertainment sphere offers a lot of browser toys. Play football games and experience any role on the field. A quarterback who makes the best shots. A goal-keeper who does wonders and catches throw after throw. Or even a team member who rushes to bring the ball to the touchdown area.
Show me the Best Sports Adventure!
What makes a match a good one? First of all, it is interesting to participate from different angles. Luckily, our selection offers to be anyone. Simply choose what you want to do on the field. Secondly, it is cool when a match has something unusual about it. For example, a zombie theme! Protect your brains, not the ball, and run through a wall of monsters. It is even better to have all kinds of games in one: volleyball, basketball, rugby. Just have a look at the list and find your title.
Football Games Online: Advantages
You have no chances to get bored by the adventures. Why? They have unique leveling systems. Each round boosts your desire to perform better and earn more scores. Besides, you can invite your friends to play together. It is more fun and creates a more competitive atmosphere. In short, the toys are good entertainment options to ensure an interesting pastime.
Are Football Games Free?
Yes. You don't pay or register. There are only two requirements – the Internet connection and an updated web browser. You don't need to possess a high-end playing machine to join these rounds. To scout the selection, visit Kevin Games. It is a virus-free website where you can feel protected from any malware. Open any title and focus on the ball!
---
We carefully selected 16 of the greatest Football Games and made them available for you online for free.
This archive consists of browser games for desktops and mobile platforms as well as titles specifically designed for tablets and phones. Here you will find some truly amazing gems like Touchdown Rush, Penalty champs, Swipe Kicker, Return Man Football, Retro Bowl, and tons of other awesome free games.
---