What are the most popular Hidden Objects Games?
What are the new Hidden Objects Games?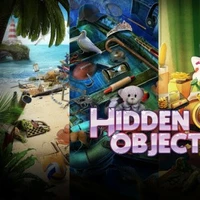 Play Free Hidden Objects Games Online
Years of evolution have made humans capable of incredible things. Being able to notice patterns and minuscule details is one of them. Initially intended as a problem-solving mechanism, this trait turned into a form of amusement. Numerous hidden objects games online are a testament to that. Their specific goals and mechanics may vary but the foundation is always the same. Find something or someone concealed on the screen and point out its location. This simple idea is used in a variety of ways to create engaging experiences. Try them all, and train useful attention-based skills while genuinely having fun.
In Plain Sight
Of all the categories featured on Kevin Games, this one may be the most overlooked. Hardcore players usually consider it too casual and don't give it a chance. The reality is, they are most likely missing out on some potentially great titles. Their basic premise doesn't define the actual gameplay. The genres that fit this general description include:
Point-and-click pixel hunting adventures
Puzzles where points of interest reside among interspersing colors and textures
Multiplayer hide and seek matches set in different environments
Stealth simulators where the mission is to steal certain items
Evidently, the list is not limited to simplistic examples intended for kids. There are many action-oriented alternatives suitable for more mature audiences. The process is often challenging but achieving the tasks always feels very rewarding.
Best Way to Play Hidden Objects Games
Just a few years ago this kind of digital entertainment was only available on smartphones. The situation has changed drastically thanks to the recent developments in web technologies. Thanks to emulators, the contents of popular apps are now available through regular browsers. This site specializes in such ports as well as original entries designed from scratch. Just look at the list, click anything that seems promising and try it out. The program will run directly in the open tab without requiring downloads or installations. Typically, the creators add support for various input methods, including touchscreens, mice, and keyboards.
Whatever the majority thinks, there are no rules when it comes to having fun. Ignore the common misconceptions and check out dozens of hidden objects games free of charge. Most are surprisingly engaging and have a lot of substance to them. Become a prolific thief, a monster looking for survivors, a spy sneaking in the shadows. Unleash the full power of the brain and reveal all the legendary secrets. Don't forget to look at the suggestion bar to discover lots of similar options.
---
We carefully selected 11 of the greatest Hidden Objects Games and made them available for you online for free.
This archive consists of browser games for desktops and mobile platforms as well as titles specifically designed for tablets and phones. Here you will find some truly amazing gems like Arabian Night 1001, Among Them Find Us, Hidden Trash Can, Mary Knots Garden Wedding Hidden Object, Hide and Seek Numbers, and tons of other awesome free games.
---