What are the most popular Teacher Games?
What are the new Teacher Games?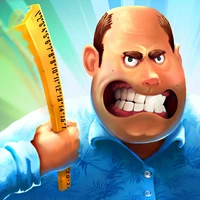 Play Free Teacher Games Online
Most kids view going to school as a necessary evil. Some tolerate the idea, others absolutely hate every second of it. Unsurprisingly, their educators rarely get the respect and appreciation they deserve. But sometimes, stepping into someone else's shoes, completely changes a person's perspective. Of course, children cannot just take control of the classroom whenever they wish. But today, there are plenty of fun teacher games online that make it possible. Become the coolest professor that a young audience could hope for, and enlighten them. Perform various education-related tasks and solve intricate problems together. Check homework, give out assignments and grade them fairly. Make sure that everyone behaves and grows smarter by the minute.
Inspiring Enthusiasm
There are multiple ways to approach a broad subject such as this. As a result, this category encompasses a wide variety of genres. On Kevin Games, there are several prominent examples to consider:
Resource- and time-management simulators where the goal is to oversee and improve an educational establishment
Classic platformers, side-scrollers, and arcade titles with a schoolroom theme
Miscellaneous graphic adventures and puzzles in the same vein
The gameplay and difficulty depend on the specific mechanics. However, after some trial and error, both casual and experienced players will find something suitable.
How to Play Teacher Games Without Downloading
The days of conventional software installs are coming to an end. Modern browsers are fully capable of running fairly advanced apps on the fly. This website has a huge collection of amusing interactive delights to suit any taste. To enjoy them, simply browse the desired section in Google Chrome or Mozilla Firefox. Find an intriguing thumbnail, and left-click it to load the contents in a new tab. Once the main menu appears on the screen, navigate it using the mouse and keyboard. If something is not loading properly, try disabling ad-blocking plugins.
Sharing knowledge with students is a hugely important and often thankless job. Sadly, few people realize how much care, energy, and dedication goes into it. Explore dozens of high-quality teacher games for free and see what it's like. Get through to the most stubborn individuals and transform their perception of the learning process.
---
We carefully selected 3 of the greatest Teacher Games and made them available for you online for free.
This archive consists of browser games for desktops and mobile platforms as well as titles specifically designed for tablets and phones. Here you will find some truly amazing gems like Monkey Teacher, Day At School My Teacher Games, Teacher Jigsaw Game, and tons of other awesome free games.
---