What are the most popular Balloon Games?
What are the new Balloon Games?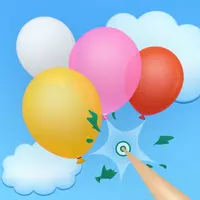 Play Free Balloon Games Online
There are a few objects that exist for the sole purpose of amusing the crowd. They are typically used during birthday parties, holidays, and other celebratory events. Unfortunately, when the festivities are over, these items are quickly forgotten. The cone-shaped hats, the confetti, and the noisemakers end up in the garbage bin. But there's another colorful accessory that floats on the ceiling for another day or two. Play balloon games to extend its lifespan beyond the usual limits. Interact with countless inflatable squishy and bouncy goodies. Push them around, blow them up, combine them in various ways. They are inherently fun, so introducing them into electronic entertainment makes perfect sense. Check this category out, and may the feelings of joy and excitement never seize.
Cheer in the Air
Kevin Games features thousands of titles with different themes. Some match certain seasons of the year better than others. Autumn is a time of spooky adventures, while winter is associated with snow and carols. However, this particular decoration suits any occasion. And no matter how low the mood, they never fail to lift the player's spirits. Gamers can encounter them in the following genres:
Platformers and side-scrollers where they serve as makeshift trampolines
Puzzles dedicated to the process of popping them in a specific manner
Casual apps where the goal is to prevent sharp objects from bursting the fragile surface
These are just a few examples of how developers use such assets in their projects. In practice, the possibilities are limitless. Talented creators have no trouble working them in physics-based brain teasers, shooters, and other playstyles.
How to Access Balloon Games Online
This subject is very common on mobile due to the casually-inclined smartphone and tablet owners. Finding the appropriate applications is as easy as typing the name in the search bar. Apple's and Google's markets will display hundreds of suitable results. Sort them by the highest rating, and give the top entries a try. On desktops and laptops, the situation is also quite fortunate. Aggregator websites like this one, for instance, carry numerous options that fit the bill. Browse the tag, click any promising thumbnail, and press Start. The contents load in the frame embedded directly into the page. No download or installation is necessary.
Family gatherings and special get-togethers fill the hearts with love and friendship. Don't let them fade away too quickly and prolong the magical atmosphere. Or enjoy balloon games free of charge at any moment to recreate those wonderful memories.
---
We carefully selected 7 of the greatest Balloon Games and made them available for you online for free.
This archive consists of browser games for desktops and mobile platforms as well as titles specifically designed for tablets and phones. Here you will find some truly amazing gems like Blast the Balloons, Move Balloon Safely, Balloon Challenge, Balloons Matching, Create Balloons, and tons of other awesome free games.
---