What are the most popular Rainbow Games?
What are the new Rainbow Games?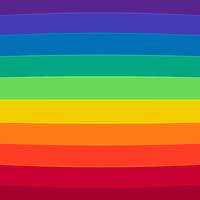 Play Free Rainbow Games Online
Since the dawn of civilization, humans have been fascinated by natural phenomena. Eventually, scholars and inquisitive individuals were able to figure out the mechanisms behind them. However, certain miracles of nature are so breathtaking that they still blow people's minds. Sadly, the most beautiful ones are quite rare and difficult to come across. This is where virtual simulations shine. The popularity of rainbow games online is a testament to that. Software is capable of recreating wonderful patterns that occur when the sunlight passes through water. By utilizing some magical-looking lighting tricks, developers can easily achieve a similar effect. But eye candy aside, what are the benefits of doing that? And what kinds of interactive experiences are representative of this category? This overview will introduce newcomers to the concept with several examples that fit the bill.
Full Spectrum of Fun
Titles that revolve around a certain theme, rather than specific mechanics, are incredibly diverse. In this case, Kevin Games features dozens of options is numerous subgenres, namely:
Classic platformers, side-scrollers, and action-adventures with rich palettes and vibrant visuals
Logical puzzles and brain-teasers where color-picking directly affects the gameplay
Bartending and cooking simulators with a focus on colorful presentation
Digital coloring books and paint-by-numbers apps
The range of choices is truly impressive and has something for everyone. Check out the available entries and discover new amazing pastimes every day.
How to Play Rainbow Games on Any Device
Niche entertainment products used to be notoriously hard to find. Fortunately, the situation has improved tremendously over the years. These days, the market is bursting with outstanding releases to choose from. This website specializes in those that require no installation or payment. Typically, they originate on mobile platforms and then get ported to PC. Smartphone owners should look for them in their systems'native stores. Desktop and laptop users can simply browse this collection and click on any appealing thumbnail. Wait for the main menu to load and begin the playthrough. Use Chrome, Firefox, or another popular browser for best results.
Sight is one of the most important senses of perception. When light waves reach the eye, they stimulate the brain like nothing else. Explore a huge catalog of rainbow games for free and marvel at their magnificent imagery. Experiment with countless hue combinations, overcome obstacles with creativity, and have a great time.
---
We carefully selected 6 of the greatest Rainbow Games and made them available for you online for free.
This archive consists of browser games for desktops and mobile platforms as well as titles specifically designed for tablets and phones. Here you will find some truly amazing gems like Rainbow Fish Coloring, Qawqaa, Pony Fly in a Fantasy World, Rainbow Frozen, Rainbow Tile, and tons of other awesome free games.
---