What are the most popular Dungeon games?
What are the new Dungeon games?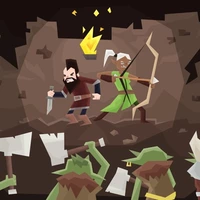 Play Free Dungeon games Online
Welcome to the world of dungeon games online. Are you ready to be tested? You're going to run, gallop, and even crawl towards your goals. Sometimes higher purposes imply being lower to the ground, you know. Or like in this case - below the ground level. Still the rewards are worth it! As well as tons of strong emotions you will get. Add here your skills being improved and hesitate no more. Leave the doubts behind - it's time to be brave and curious.
Dark rooms and even darker mysteries
Get a unique gaming practice that does not require any installs. Save the world and your data storage. All the adventures on Kevin Games are available via browser. Choose your favorite one to enter the dreary obscurity. Explore the dank cellars inhabited by unknown creatures. Reveal their secrets for the sake of victory. Bring back peace to half-ruined kingdoms. Become the hero of the day, the protector of the weeks. Destroy the enemies so they would never be a threat again.
Play dungeon games from anywhere
Face the music from the comfort of your home. Or take the battlefield with you - wherever you go. Crash your opponents instead of getting bored at work or at school. Escape from reality for as long as you'd like to. This is possible as the titles are available both on PCs and mobile platforms. Use a computer, a smartphone, or a tablet to join the endless combats. Spend memorable hours, not money: the whole experience will cost you nothing. Enjoy the carefully selected dungeon games free of charge. Make your way to the light and eternal fame. Good luck in your journey!
---
We carefully selected 5 of the greatest Dungeon games and made them available for you online for free.
This archive consists of browser games for desktops and mobile platforms as well as titles specifically designed for tablets and phones. Here you will find some truly amazing gems like Among Rampage, Dungeon.ro, Mini Fighters: Quest And Battle, Brave Knight Of Epic Fantasy Adventure, Merge Dungeon, and tons of other awesome free games.
---