What are the most popular Idle Games?
What are the new Idle Games?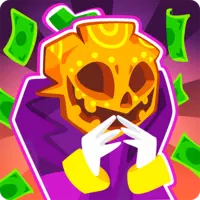 Play Free Idle Games Online
The Idle games are also called incremental games or clicker games. They are a type of video games. The gameplay consists of performing simple actions. Usually, you just need repeatedly tap on your screen. Such games became popular in 2013 after the success of Cookie Clicker. They have become particularly popular on phones. Also, as browser games. For many people, such simplicity will be a great reason to relax. With their help you can have fun and escape from everyday worries. They help to kill time when there is nothing to do at all.
There are all Idle games free on the Kevin Games
In them, you press a button and receive some currency. You can then spend money to buy skills or items. Your earned coins will allow you to earn money faster or automatically. Then you don't even need to click buttons. Sources of income can be presented in completely different forms. They can be presented as various buildings, factories and farms. Also, they can be presented as a completely empty place that you just need to click on. Such sources earn a certain amount of coins over a certain period of time. They can be additionally purchased or upgraded to increase the amount of currency earned per second. But on the other hand, the player always spends the same amount of time on each level. The cost of buildings and improvements increases in such way.
Easy to log in
Do not worry about the game files. You can choose playing Idle games online and the files will also save online. The app can run in the background while you're doing other things. Log in to the app has no restrictions. As how many times you want to log in as many times you can. There are also no penalties if you do not enter for a long time.
Play Idle games and forget about all your problems
Play simple games whenever you want. Play on your way to school, to work, in your free time. They do not require constant attention. It aims to distract you from a hard day and give you positive emotions.
---
We carefully selected 20 of the greatest Idle Games and made them available for you online for free.
This archive consists of browser games for desktops and mobile platforms as well as titles specifically designed for tablets and phones. Here you will find some truly amazing gems like Zombie Royale.io, Doge Miner 2, Restaurant.io, Doge Miner, Wood Cutter Santa idle, and tons of other awesome free games.
---
Also people ask about Idle Games
What are idle games?

Idle games are typically simplified industry tycoons that serve as perfect time-killers. The goal is to produce certain goods by clicking the dedicated button. Hire help and invest in better equipment to automate the process and dominate the market. The player can let the app generate income in the background while performing other tasks.