What are the most popular Shooting Games?
What are the new Shooting Games?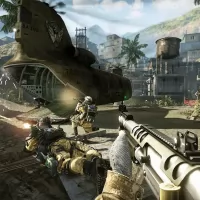 Play Free Shooting Games Online
If you like guns, action and fast-paced gameplay you are probably a fan of shooting games. It can be so much fun to hunt down your enemies, avoid their fire and hide behind cover exploring interesting levels in both multiplayer and singleplayer modes. This category has lots of variety because shooting mechanics can be a part of many different games: first and third person shooters, tactical multiplayer games, action-adventures and battle royale. Let's take a look at some of them to get a better idea of what they are all about.
It's always a good idea to start with the basics. In Apple Shooter the goal is to shoot an apple resting on a person's head with a bow. The game is 2D and you see the level from the side. You can select the angle and the force of your shot to try and hit the apple. If you accidentally hit the person the game will be over. And that's all there is to making shooting games fun – no mind-blowing graphics, no loud explosions, just bow and arrow and a target that you need to hit.
But what if you prefer something more complex? Then take a look at tactical multiplayer shooters like Krunker.io, Cartoon Strike and Pixel Warfare 5 – they all feature modern 3D graphics and intense gameplay with a variety of weaponry. Shellshock.io is more of a fun free for all deathmatch where you play as a human-sized chicken egg armed to the... teeth? There are other kinds of shooting games online: for example, Doblons.io is about combat at sea and ships firing at each other with cannons. Vertix.io features a unique top-down perspective and stylized pixelated graphics. Finally, if you're into crafting and survival ZombsRoyale.io has got you covered with its awesome building mechanics and weapons.
Shooting games play a huge part in the industry of electronic entertainment defining the trends and mechanics that are later implemented in many other genres. No matter what vibe, play style or setting you're into you will find something suitable for yourself to enjoy. Explore hundreds of shooting games free of charge on Kevin Games!
---
We carefully selected 229 of the greatest Shooting Games and made them available for you online for free.
This archive consists of browser games for desktops and mobile platforms as well as titles specifically designed for tablets and phones. Here you will find some truly amazing gems like Classical Deer Sniper Hunting 2019, 3D sniper, Slime Hunter, Shootz.io, Neon Invaders, and tons of other awesome free games.
---
Also people ask about Shooting Games
Where Can I Play Shooting Games Online for Free?

Kevin Games has one of the largest assortments of online shooters. Open the site and launch the desired game in the browser without paying anything.

Shooting Games Online Where You Move Around

Traditional FPS titles with WASD movement and mouselook controls are available on Kevin Games. Play Krunker IO, Voxiom IO, ShellShockers, and many others for free without installation.

Shooting Games Where You Team Up

Kevin Games carries numerous shooters with team-based and capture-the-flag modes. Check out Krunker IO, CS Online, Pixel Warfare 4, and other multiplayer deathmatch titles.