What are the most popular Zombie Games?
What are the new Zombie Games?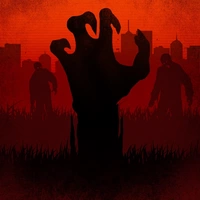 Play Free Zombie Games Online
Zombies came to our culture from Haitian myths. Locals of those places believe in magic. They say it's possible to raise the dead using spells. The George Romero's Night of the Living Dead made a revolution. Dreadful creatures craving for peoples' brains made it to the top. They are in the movies, in TV series, in comics. And, of course, in zombie games online. Join them if you dare.
Beware The Undead
Explore this category if the walking dead theme thrills you. Here you'll find all kinds of titles (and zombies, for sure). It can be a not-so-scary platformer to start with. Then maybe try a multiplayer. To fight as a team is not as frightening as to stand alone. For brave users there are lots of realistic survival horrors. Sometimes they are kind of too lifelike. Get ready for traps and screamers. Keep your head cool watching the world end.
How To Play Zombie Games
Technically a zombie is a body without a soul. It's commonly known that to kill a revived corpse you need to destroy its brains. Choose a weapon for your taste to smash some heads. Use a chainsaw, a gun, a machete, or even a sword. Just remember one thing. If you don't manage to 100% destroy them, they become angrier.
You've probably seen films and know the rules. They are almost the same at Kevin Games.
Get ready to run, shoot, hide, and shoot again. Your primary goals are the following. Destroy all the living dead you can. Stay alive. Try not to turn into one yourself. Oh, and no mercy for the bitten comrades. Unfortunately, they are doomed.
Enjoy Zombie Games Free
To be honest, playing here is even better than going to the cinema. First of all you're in the thick of an action. Sounds more intriguing than just to watch things happen. Secondly, you don't have to pay a single cent. All content is free. There is no need to create an account or download anything. Just use a compatible browser. Most of the games are available on different platforms. Which means you can play on PC, tablet, or a phone. Even a chromebook will go. Start your journey now, good luck.
---
We carefully selected 38 of the greatest Zombie Games and made them available for you online for free.
This archive consists of browser games for desktops and mobile platforms as well as titles specifically designed for tablets and phones. Here you will find some truly amazing gems like Kill the Zombies, Pirates vs Zombies, WARS Z ZOMBIE APOCALYPSE 2020, Crown Run Western Zombies, Nightz.io, and tons of other awesome free games.
---
Also people ask about Zombie Games