What are the most popular Fish Games?
What are the new Fish Games?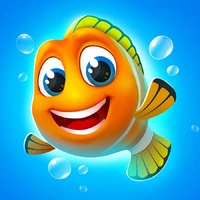 Play Free Fish Games Online
Spending weekends by a lake or a river with your family is a rewarding experience. If you don't have the time or money to afford it, play fish games instead. Step into a virtual world designed to provide the best aspects of this engaging activity. Feel the warm breeze against your skin, take a deep breath of fresh air. Forget about the inconveniences of waking up early in the morning and driving for hours. Green shores and creaky piers are there to welcome you whenever you please. Are you ready to catch the largest specimen you and your friends have ever seen?
The Magic of Fishing Games
Computer entertainment has a lot to offer in terms of genre variety. Associating it with shooting, fighting, jumping, and driving racecars does not show the whole picture. While most gamers love fast-paced action, some prefer slower meditative pastime activities. That's why this category on Kevin Games features dozens of titles with diverse mechanics. Try your hand at complex simulators where the slightest mishap can cost you the catch. If those are too intense, relax with the ones that take a more casual approach. Dive into underwater depths for a change and discover amazing creatures lurking in the dark. There's no limit to the possibilities this theme provides.
Where to Find Fish Games Online
Having to spend hundreds of dollars is another common misconception about the gaming industry. The dark times of wasting your salary on a few titles are long gone. Many developers offer their products for free or find other ways of monetization. This is where our website comes in: it connects such creators with you, their audience. Look through our archive. Discover top-quality fishing-themed options, and try them out in your browser. Here, no payment is required to have hours of fun every day.
The appeal of laid-back, relaxing, and satisfying gameplay is easy to understand. We all need to spend some time alone with our thoughts once in a while. Treat yourself on a lazy afternoon. Enjoy over-the-top and realistic fish games free of charge. May you catch the biggest fish in the pond!
---
We carefully selected 21 of the greatest Fish Games and made them available for you online for free.
This archive consists of browser games for desktops and mobile platforms as well as titles specifically designed for tablets and phones. Here you will find some truly amazing gems like Speedy Fish, Fishing io, Eat Small Fishes, Fishington.io, Crazy Shark, and tons of other awesome free games.
---