What are the most popular Bicycle Games?
What are the new Bicycle Games?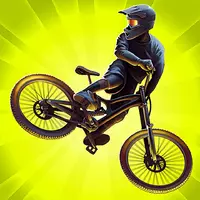 Play Free Bicycle Games Online
Leading an active lifestyle is beneficial in many ways. Not only is it rewarding but also great for mental and physical health. Unfortunately, few people have enough time and energy to enjoy their favorite activities regularly. This is where electronic entertainment comes in handy. For instance, online bicycle games capture the thrill of cycling without any unnecessary hurdles. Ride virtual bikes, travel across various types of terrain, enter competitions, and perform cool tricks. Although this niche is relatively narrow, it offers a surprising amount of diversity. Read on to discover what kinds of titles it encompasses and where to find them.
Wheels In Motion
There are numerous ways to go about recreating real-life experiences. Developers have tried a lot of different approaches over the years. Many of them turned out to be extremely fun and remain popular to this day. Here are a few variations that could serve as a great introduction to the category:
Racing simulators in which multiple participants complete several laps and hurry towards the finish line
2D and 3D trials where the goal is to overcome obstacles without crashing
Freestyle BMX sims that focus on flips, grinds, and other crazy stunts
Procedurally generated side-scrollers where the player has to cover the largest distance possible
As evident from the list above, fans have plenty of options to choose from. Pick one depending on personal preferences or check them all out.
How to Play Bicycle Games Without Installation
Due to their relative simplicity, products that involve bike riding are pretty cheap. They are not particularly resource-intensive or difficult to design. In fact, many companies publish them openly on content aggregation sites. Kevin Games, for instance, carries a large enough assortment to suit any taste. To access it, simply open the appropriate section, click on any interesting thumbnail, and enjoy. Launch dozens of web-friendly apps in Chrome or Firefox without paying anything.
Even the most dedicated athletes can't always participate in their favorite hobbies. But competent digital alternatives help scratch that itch in any circumstances. Try new bicycle games for free every day and have a great time.
---
We carefully selected 5 of the greatest Bicycle Games and made them available for you online for free.
This archive consists of browser games for desktops and mobile platforms as well as titles specifically designed for tablets and phones. Here you will find some truly amazing gems like Mountain Bike, Under Water Cycle Impossible Track, Cycling Hero, Bikosaur, City Public Cycle Rickshaw Driving Simulator, and tons of other awesome free games.
---