What are the most popular Holiday games?
What are the new Holiday games?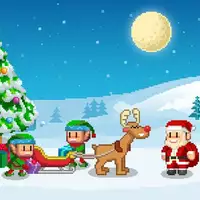 Play Free Holiday games Online
Have some free time? Want to have fun? Play holiday games. It's a collection of browser-based adventures of different genres. Similar topics and top-notch quality unite the titles. Experience cool journeys in one place without spending time searching by yourself. We've hosted them under 1 roof to make it easier for you. Welcome!
Action-Packed Gameplay
Some titles are designed to be highly competitive. For example, Gravity Snowman Christmas features interesting mechanics. Controlling the head of a snowman, you meddle with the gravitation rules. It moves forward automatically. Your goal is to click and get pulled up or down. A piece of cake? Not at all, as there are lots of obstacles that kill: dynamite, sharp disks, lightsabers… Come and check out yourself!
Holiday Games Online: Useful for Creativity
Not everyone knows how to decorate a Christmas tree. One of the adventures is a simulator that offers to experiment with a virtual tree. The variety of options is stunning: all kinds of ribbons, candles, lighting chains, etc. You can even improve the surroundings by putting presents under the tree. Practice for some time and show off your skills in real life.
Setting Your Mind Racing
Some adventures focus on training your logical thinking and attention to detail. In Christmas 2019 Differences 2, you try to spot 9 elements that look different. As it gets easier from level to level, you improve your skills. And learn to scan even the least obvious areas.
In Easter Day 2020 Slide, the goal is to collect puzzles. Swapping pieces, restore the original, and increase the difficulty to make it more interesting. 9, 16, 25 elements to deal with. Are you patient enough to challenge the most complicating round? It must not be that difficult. Besides, you enjoy pleasant images, drawn in a cartoon style.
Join Holiday Games free from any restrictions on our website. The titles are available any time without payment, registration or downloading. Come to Kevin Games for this collection and scout its pages for other entertainment options.
---
We carefully selected 6 of the greatest Holiday games and made them available for you online for free.
This archive consists of browser games for desktops and mobile platforms as well as titles specifically designed for tablets and phones. Here you will find some truly amazing gems like Easter Day 2020 Slide, My Christmas Tree Decoration, Christmas 2019 Differences 2, Lumberjack Santa Claus, Gravity Snowman Christmas, and tons of other awesome free games.
---