What are the most popular Gun Games?
What are the new Gun Games?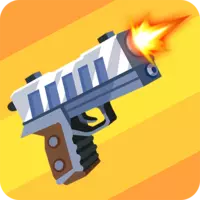 Play Free Gun Games Online
You can be all pacific and kind in real life. At the same time you can love to play gun games. Nothing controversial! They are gripping and perfect to let the stress out. Besides, no one gets hurt. Except for those dreadful zombies. And space invaders. Plus other kinds of digital rivals. Well, they knew what they had signed up for. Destroy them all unless it's too late.
Point Your Gun At Boredom
Gunfights include a big choice of different titles. Guns themselves may vary. In video games this term can be used to describe any ranged weapon. Which means any weapon usable for shooting. So we get heaps of options, from water disruptors to flamethrowers. Your missile can be charged with bullets, shells, or even plazma.
As for locations and plots, the diversity continues. Kevin Games invites you to explore new places. Comb dense forests searching for enemies. Find secret military bases. Circle the city guarding its peace. Fight for justice as a modern superhero. Or take the bad guys' side and cause some troubles. One of the best things about video games is you can do anything. Switch universes, so it never gets boring.
Enjoy Gun Games Online
Times passed when you had to download a game to join it. Now all you need is to pick up one and press Start. Our selection covers such different types. What is your choice - a realistic 3D shooter or a legendary arcade? Just a few clicks separate you from dynamic gameplay. Check out cool graphics and proper audio. What's even better, you can invite your mates to play together. Unite to face a common threat. Or beat each other in furious battles.
Are Gun Games Free?
This content is virus-checked and absolutely free. Neither you have to install anything, nor to create an account. Same for the multiplayer mode. Even access to the worldwide community is not something you'll have to pay for. You are able to play anywhere. Use any type of device: a phone, a tablet, a PC, or even a chromebook. Choose a target to aim at and become the best shooter!
---
We carefully selected 24 of the greatest Gun Games and made them available for you online for free.
This archive consists of browser games for desktops and mobile platforms as well as titles specifically designed for tablets and phones. Here you will find some truly amazing gems like Johnny Revenge, Custom gun creator, Food gang, Bank robbery, Top Guns.io, and tons of other awesome free games.
---
Also people ask about Gun Games
What are some good gun games?

Gun Builder is a great puzzle that revolves around assembling firearms from disjointed parts. Mr. Bullet is a unique brain teaser that involves aiming and shooting. PolyGuns IO, Shellshock IO, and Krunker IO are traditional multiplayer shooters.