What are the most popular Western games?
What are the new Western games?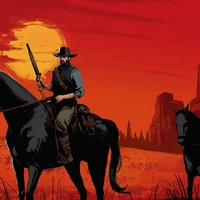 Play Free Western games Online
Welcome to western games online if you're searching for online time-killers. Designed to attract with content and plots, the titles share the same topic. Have a look at life in the West. Live through both true stories and fantasy-flavored ones. Action-packed and based on reaction skills or meditative and thought-provoking… Find any adventure to your liking!
The Apocalypse: The Undead are Coming
Infected with a lethal virus, people turn wild in Western Cowboy Run. Grab a weapon and keep killing the creatures in this arcade-like adventure. Run, jump and avoid obstacles that knock you down. The longer you withstand this hell, the more coins you get. Spend them on better gear and become more dangerous to filthy monsters.
Or maybe you want to be on the other side? What about hunting for human brains, sounds enticing? Try Crown Run Western Zombies. Start small with only 2 beasts in your group. Catch victims to strengthen the horde and destroy rivals who stand in your way.
Play Western Games: Violence-Free Options
Want to create, not destroy? Dive into Klondike, a farming simulator in the rich western lands. Let the natives show you their ways to succeed. Harvest crops, grow cattle and poultry and save enough resources for a grand expedition. The wilderness is waiting to be tamed with equipment and experience.
To practice your masterminding skills, have a look at Western Escape. It's a stealth-based adventure that focuses on planning in the first place. Analyze missions and traps waiting for you. Find the most optimal path and go to the target unnoticed. 10 challenging levels and an enriching experience are guaranteed.
Where to Play?
Check out other on-screen toys on our website. Enjoy western games free of charge, and come for hooking titles on our pages. Kevin Games offers cool toys that don't let go from the first moments.
---
We carefully selected 5 of the greatest Western games and made them available for you online for free.
This archive consists of browser games for desktops and mobile platforms as well as titles specifically designed for tablets and phones. Here you will find some truly amazing gems like Western Cowboy Run, Shoot or Die Western Duel, Klondike, Crown Run Western Zombies, Western Escape, and tons of other awesome free games.
---