What are the most popular Chess Games?
What are the new Chess Games?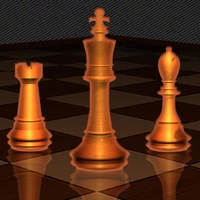 Play Free Chess Games Online
Always dreamt of Kasparov's fame? Then you're definitely on the right page! Your dreams are about to come true. We invite you to play chess games in the safest place on earth. Challenge your friend or a random stranger. Compete with a computer. Besides the choice of a vis-a-vis, you can also tune up other settings. Even the style of the board is just the way you like it. Ready? White moves first!
Coolest Brain Trainers
It is so true that chess games free us from boredom and low spirits. They are not only fun (though they really are). What is more is the fact they help you to develop as a personality. Playing this "old-but-gold" game, you become more focused. You train your ability to think forward. At the same time you learn to account different possible scenarios. As well as to keep your head cool when it gets tough.
Become a real grandmaster with Kevin Games. Feel free to demonstrate all your talents. Reconstruct some legendary battles or set your own record. Perform some serious castlings and promotions. Enarm your opponents with brilliant captures. Get your name written in the history of digital board activities.
Best Chess Games Online
Not only do you need to buy a board or pay a fee to enter. You don't even have to install anything. Just pick up the title and press Start. No registration, no downloads, no hidden payments - only the game itself. Enjoy our selection of chess simulators free and safe. Use any type of device: a PC, a phone, a tablet, a chromebook. We wish you good luck!
---
We carefully selected 6 of the greatest Chess Games and made them available for you online for free.
This archive consists of browser games for desktops and mobile platforms as well as titles specifically designed for tablets and phones. Here you will find some truly amazing gems like Chess Move, Chess Challenges, Junior Chess, Chess Arena, Halloween Chess, and tons of other awesome free games.
---