What are the most popular Pirate Games?
What are the new Pirate Games?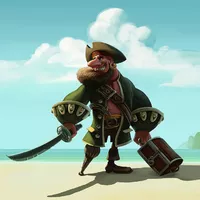 Play Free Pirate Games Online
One of the most appealing aspects of fictional worlds is their spirit of adventure. Everyone looks forward to exploring distant lands, facing unfathomable dangers, and fighting terrifying opponents. It's a welcome escape from everyday worries and a break from boring routines. Today, there are more options to choose from than ever before. Those who don't know where to start should play pirate games. They encompass a wide variety of genres and walk the line between history and fantasy. Become the terror of the seas and make the enemies run in fear. Discover uninhabited islands and look for treasures buried in the sand. Build and improve mighty warships and participate in epic battles.
Old Chest of Wonders
On Kevin Games, a huge number of titles are often united by a common theme. Consequently, players who wouldn't normally enjoy certain mechanics end up giving them a try. Sometimes, when the narrative is engaging enough, the other aspects don't matter that much. Legends of the Caribbean is a very fruitful setting in this regard. The array of options is as vast as the ocean itself:
Single-player campaigns and competitive action over the Internet
Realistic simulators featuring navigation-related tasks and crew management
Turn-based strategies with heavy focus naval combat
Miscellaneous casual fun, including puzzles, point-and-click, and tower defense
Try dozens of vibrant, memorable experiences that can provide hours of entertainment.
Where to Find Pirate Games Online
Nowadays, talented developers release amazing products almost on a daily basis. The competition is so fierce that some don't even ask for payment. Instead, they find other ways of monetization, like ads, and optional items. Obviously, the end-users benefit from this situation the most. The only problem is having a good source that delivers such offers consistently. This is exactly what this site is meant to do. Browse the huge catalog without ever running out of freebooting and swashbuckling-related content.
Join millions of fans who swear by this diverse and awe-inspiring category. Pirate games free their imaginations and create memorable detours into virtual worlds. Modern graphics make the surrounding so rich and compelling that reality pales in comparison. Assemble a fearsome team of cutthroats and become the only king of the sea. Engage in naval warfare, destroy other vessels, and emerge victorious every time.
---
We carefully selected 8 of the greatest Pirate Games and made them available for you online for free.
This archive consists of browser games for desktops and mobile platforms as well as titles specifically designed for tablets and phones. Here you will find some truly amazing gems like Pirate Bomber - Jewel Hunter, Battleships Pirates, Pirates vs Zombies, Pirate Adventure, Kick the Pirate, and tons of other awesome free games.
---
Also people ask about Pirate Games
Where to pirate games?

These days, there's no need to pirate computer entertainment products. Sites like Kevin Games allow playing official browser versions of popular titles for free.

What does it mean to pirate video games?

It means to download illegal copies without purchasing them. Not only is it against the law, but also hurts developers and publishers. Instead of pirating, play free browser versions on Kevin Games.