What are the most popular City games?
What are the new City games?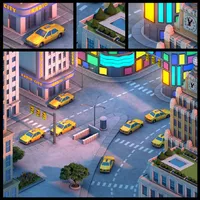 Play Free City games Online
The collection of online city games focuses on traveling around different digital cities. On foot, by car, or by bike. As you proceed through any of the adventures, you'll deal with all kinds of difficulties. There are pits, obstacles, police patrols, criminals. Get primed for all kinds of missions to boost your driving skills. And have a good time!
The Harder, the Funnier
The developers have implemented their creations in different ways. Be ready to become a criminal and break the traffic rules. Or join the police force! Rush to the crime scene and neutralize armed bad guys along the way. Whatever you choose, it will be fun. Especially if you play with friends and take turns to complete the missions.
Play City Games and Enjoy the Rush
The adventures are mostly about speed and accuracy. The following features allow them to stand out from the crowd:
Cool graphics. The cityscapes have detailed textures that don't take time to be loaded. Everything works without lags. Bright colors, thought-through vehicles, dynamic background music… You're gonna like it!
Hooking gameplay. There are usually lots of levels that offer more challenging tasks with each new round.
The opportunity to upgrade your reaction skills. As well as learn more about driving, at least in the virtual.
How to Start
City games are free of charge. Here're the only things you'll need to dive in:
An Internet connection
An updated browser (like Chrome)
A link to the collection published on Kevin Games
---
We carefully selected 7 of the greatest City games and made them available for you online for free.
This archive consists of browser games for desktops and mobile platforms as well as titles specifically designed for tablets and phones. Here you will find some truly amazing gems like Super Buddy Run 2 Crazy City, Parkour GO, City Rush Run, Parking Fury 3d Beach City, Mob War, and tons of other awesome free games.
---