What are the most popular Fairy Games?
What are the new Fairy Games?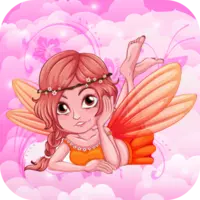 Play Free Fairy Games Online
Fairy games online is a casual category for those who like style and jigsaw challenges. Some titles are designed for young princesses to train their fashion skills. Clothes, jewelry, makeup… You'll find every element necessary for creating outstanding outfits. Other adventures are perfect for meditation thanks to their slow-paced nature. Assemble pieces together, deal with nice pictures and enjoy the gameplay. Ready to give them a try?
Lots of Fashion Options
There are a lot of dressing titles. They have familiar plots: several models need your help in finding the best combination of clothes. In BFF in Fairy Style, 3 best friends are getting ready for a cosplay contest. Dig through their dresses and use different items to transform them into fays.
In Fairy Princess Cutie, 4 women of different complexions want your advice. 12 sections of clothing pieces and a rich selection to choose from… The finishing touches are sure to pleasantly surprise you. Pick the background and 1 cartoon-like animal yourself. Take a photo and share the results with friends.
Princess in Colorful Wonderland features 2 royal members. They want to dress like fairies. Although they have lots of garments, they lack experience. Will you assist the poor things? Invite your best pal to enjoy it together. Dress them in turns, compare the results and try to find the best match. Take part in a photo session and download the pics to your device!
Play Fairy Games to Seek Meditation
The jigsaw genre is among the most casual genres. It's perfect entertainment both for kids and adults. The topic of Fairy Puzzle is dedicated to dreamlike landscapes and creatures. 50 levels with ascending difficulty present amazing arts. The gameplay and graphics are perfectly combined, making it a cool adventure to dive into.
Other Adorbs to Meet
Check out other cute titles to get you hooked. Enjoy fairy games free from lags or jitters on our website. It hosts adventures that are well-designed and run from your browser. Called Kevin Games, it's popular among thousands of online gamers.
---
We carefully selected 5 of the greatest Fairy Games and made them available for you online for free.
This archive consists of browser games for desktops and mobile platforms as well as titles specifically designed for tablets and phones. Here you will find some truly amazing gems like Fairy Princess Cutie, BFF in Fairy Style, Fairies Heart Style, Little Cute Summer Fairies Puzzle, Fairy Puzzle, and tons of other awesome free games.
---