What are the most popular Freecell Games?
What are the new Freecell Games?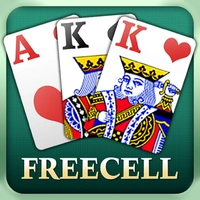 Play Free Freecell Games Online
When you feel tired doing routine work, you dream about a distraction. Changing tasks is the best way to rest. Get relaxed with one of the most meditative types of browser toys. Play freecell games and use cards to carry your mind away.
Task № 1 (Most Difficult): Choose Your Title
We have prepared a variety of browser toys. As a result, it is indeed challenging to settle on something. There are almost as many types as the number of cards in the deck. Don't let their names mislead you. Even if they are funny. For example, Baker's Dozen or Single Rail.
Be ready to face some difficulties. Each has its own rules and limitations, as well as a different set of help. But their aim is the same. Sort the chaos and put pieces in 4 foundations piles. Every suit – spades, clubs, hearts, and diamonds – needs to take its place. With Ace being the first, you close the pile with King.
Restore Order in Freecell Games Free
Note that you can't put suits in their pile without following the ascending order. One piece goes after another, each having a rank higher. Unfortunately for you, the AI deals cards at random. They are intermixed, and you never know where which is. It is what makes the adventure so unpredictable.
Need Some Help?
As rounds can get heated, most titles offer some useful tools:
They are either limitless or entirely absent. If you are lucky to have tips, use them later, not at the beginning. They save you if you don't know what to do.
It is a good opportunity to correct a hasty decision. Or when your finger slipped, and you didn't mean to make such a move. Whatever your excuse is, press the button to improve your progress.
Evolution of On-Screen Adventures
Years ago, these titles were also popular. But they had a different form. They were PC apps, which one could only play from a computer. At first, there was downloading, then installation. And only after that came the part of enjoying them. Today modern technologies have come up with browser-based toys. Being lightweight, they run without installation. A rich variety of such entertainment options is available on Kevin Games.
Catch Up and Get Started
Each adventure has its own set of rules. The developers have included instructions to help players with understanding. So, don't be afraid to get confused. Just opt for any type of freecell games online. You will get a hang of it very soon.
---
We carefully selected 7 of the greatest Freecell Games and made them available for you online for free.
This archive consists of browser games for desktops and mobile platforms as well as titles specifically designed for tablets and phones. Here you will find some truly amazing gems like King of Freecell, Solitaire 13in1 Collection, Golf Solitaire, 365 Solitaire Gold 12 in 1, Classic Klondike Solitaire Card Game, and tons of other awesome free games.
---