What are the most popular Building Games?
What are the new Building Games?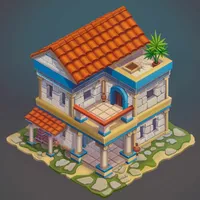 Play Free Building Games Online
Try building games online to learn everything about building and installation works. You'll take on different roles. Construct the biggest skyscraper yourself. Control masses of workers and give orders. Become a businessman and produce vegetables in an eco-tower. Or even learn to make bridges out of what you have at hand.
Higher, Better
Cool machines, advanced gear, an impressive project… In Building New House, you get an array of instruments to fulfill the task. During several stages, you'll destroy an old one and create a new skyscraper to live in.
Tower Builder is more about your reaction skills. A crane is dragging floors automatically, while you decide when to let go. If it is the right moment, they land where they belong. But if you miss, they fall, and you lose. Skyscrapers, cool powerups, challenging tasks… Ready to get hooked?
Play Building Games and Test Your Management Skills
How many floors will you buy to scale up your business of producing vegetables? Food Empire Inc is a simulator that boosts your management skills. Control employees, hire managers to speed everything up, perfect their qualifications. As well as invest in different departments to improve your company as a whole.
You'll see a similar concept in Babel Tower. But here you erect a skyscraper. You can go 2 ways:
Do everything yourself. Namely, extracting materials, making bricks, cropping trees, etc.
Use the market, sell some resources and upgrade.
The second strategy is more effective. You can automate most processes and only interact from time to time.
Bridges: Rough-And-Ready
Deal with an emergency in Over the Bridge. Your car is about to drive into the abyss. To come through, build a steady enough platform. You'll get some bars, boxes, panels… Find the best way to use them. Collect stars and avoid getting stuck.
Opt for building games free from ads or registration. Just choose the one you want to try. And enjoy the content! The cool adventures are waiting for you on Kevin Games.
---
We carefully selected 10 of the greatest Building Games and made them available for you online for free.
This archive consists of browser games for desktops and mobile platforms as well as titles specifically designed for tablets and phones. Here you will find some truly amazing gems like Building New House, Building Rush, Over the Bridge, Gun Builder 2, Gun Builder, and tons of other awesome free games.
---
Also people ask about Building Games