What are the most popular Moto Games?
What are the new Moto Games?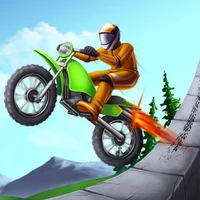 Play Free Moto Games Online
Millions of kids and adults dream of buying a motorbike at some point. Sadly, few actually follow through, even if they have the funds to get one. Leading such a lifestyle is undoubtedly cool, but also quite risky. Instead, check out moto games and drive the speediest models on the craziest circuits. Outmaneuver numerous competitors and leave them far behind, struggling to catch up. Overcome steep hills and challenging obstacles without leaving the driver's seat. Perform jaw-dropping stunts, do flips in midair, and land safely without a scratch. Visit beautiful virtual environments and open-ended sandboxes. If any of that sounds enticing, it's time to explore this amazing subgenre. Read this overview to discover what it has to offer.
Full Throttle
It's important to draw a distinction between moto games and car simulators. While thy are indeed similar in many ways, their fan bases don't always intersect. The differences are not merely esthetic in nature. Oftentimes, the physics and the mechanics are fundamentally different. With that in mind, titles that revolve around bikes come in many forms:
Traditional competitive racing where participants have to complete several laps and reach the finish line
Motorcycle trials that involve advanced traversal techniques and navigating treacherous terrains
Action-oriented alternatives that add shooting into the mix
Miscellaneous puzzles, brain-teasers, and casual apps with the same theme
The range of options is surprisingly vast, allowing everyone to find something suitable.
How to Play Moto Games Without Downloading
Unfortunately, there are not too many big franchises featuring this setting. However, many indie studios have been working hard to give consumers what they want. These days, it's easy to find pretty impressive browser-friendly releases that require no installation. Moreover, they cost absolutely nothing. The only caveat is having to sit through a couple of ads now and then. On the bright side, watching them actually supports the developers. To access all the products fit the bill, browse the appropriate section of this website. Click on any thumbnail, and press Start to begin the playthrough.
Become a proficient rider roaming the roads on a trusty iron steed. Pull off mind-boggling tricks, negotiate tricky turns, and make the engine roar with excitement. Launch dozens of outstanding moto games for free and enjoy them without limitations.
---
We carefully selected 12 of the greatest Moto Games and made them available for you online for free.
This archive consists of browser games for desktops and mobile platforms as well as titles specifically designed for tablets and phones. Here you will find some truly amazing gems like Cartoon Motorcycles, Apocalypse Moto, Crime Moto Racer, Motorbike Track Day, Bike Stunt, and tons of other awesome free games.
---