What are the most popular Clicker Games?
What are the new Clicker Games?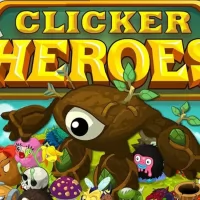 Play Free Clicker Games Online
Clicker games are an interesting bunch because they simplify their gameplay to a very limited number of input options – like simply clicking your mouse. The concept is kind of ingenious, if you think about it: designing a product that feels like an actual game that only has one button as a means of control is no easy task. This challenge makes developers put all their effort into polishing the mechanics to a point where they become almost perfect.
Making clicker games fun is possible by either automating and simplifying their level design or turning the challenge knob up to the max. Doodle Jump is an example of the first approach: in this game you control a zany character trying to climb as far as it can by jumping from platform to platform and avoiding obstacles and enemies. The controls are minimal and the clicking comes into play when you need to shoot at something.
The second approach makes clicker games free of any additional controls and is represented by games like Flaap.io where you play as a bird trying not to crash into vertical pipes appearing on its way. Every click makes the bird flap its wings to take it a little higher into the air but the gravity starts doing its dirty work almost immediately dragging you back towards the ground. This game is endless and extremely challenging – it's all about how far you can get before dying and having to start over.
Some clicker games play differently: Gold Miner, for instance, is a simulator of an underground treasure hunter. Not only do you have to shoot a hook at gold nuggets, rocks and various bonuses but also upgrade your abilities and tools in-between levels.
When it comes to playing clicker games online there is no better place for that than Kevin Games. Our portal features a great variety of these kinds of titles that exemplify the "easy to learn, difficult to master" formula. Take your pick and have fun!
---
We carefully selected 94 of the greatest Clicker Games and made them available for you online for free.
This archive consists of browser games for desktops and mobile platforms as well as titles specifically designed for tablets and phones. Here you will find some truly amazing gems like The Unique Insect, Dancer Escape, Merge cafe, 3D touch, Bouncy King, and tons of other awesome free games.
---
Also people ask about Clicker Games
Why are clicker games so addictive?

Clicker games are addictive by design. They are easy to get into, relaxing, and require minimal effort. Automate the production and generate income in the background while performing other tasks.